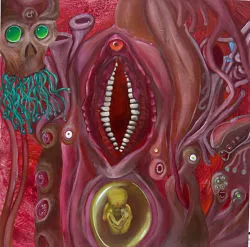 Narcisse-Shrapnel
Or maybe he just believes in the vagina dentata.
News of Todd Akin's idiocy has spread worldwide, which is kind of good because it means there's a larger pool of people who can inform us where his scientific opinions about rape and conception came from.
The Guardian of London went deep into the law books and dug up this gem of jurisprudence:
If, however, the woman should have conceived at the time alleged in the appeal, it abates, for without a woman's consent she could not conceive.
When we say they went deep, we mean it: This comes from Fleta, one of the earliest British legal texts, composed in 1290. It's just as we suspected: Todd Akin is totally medieval!
The author of Fleta, like Akin, based his (we're just going to take a wild guess at this person's gender here) thinking on scientific principles.
Back in the Middle Ages, cutting-edge scientific philosophers reasoned that the female sex organs, which they couldn't see, were just inverted versions of the male ones. Since men need to orgasm to spread their seed, the thinking went, shouldn't the same be true for women? And since women who were being raped weren't likely to experience orgasm -- ergo, it was impossible to get pregnant from a rape! (It should also be noted that this thinking engendered, among procreatively-minded fellows, a concern for female sexual pleasure that lasted exactly as long as the female-orgasm-leads-to-pregnancy predominated, and then disappeared until the advent of Playboy.)
Which is not exactly the same as Akin's "the female body has ways to try to shut that whole thing down" theory. But hey, 500 years have passed. The microscope was invented. The ovum was discovered. Now we have Dr. and Mrs. J.C. Willke, joint authors of Why Can't We Love Them Both, an anti-abortion tract that has an entire chapter devoted to the rape conundrum.
Dr. Willke is president of the International Right to Life Federation; his biography states that he "practiced medicine in Cincinnati, Ohio for 40 years, where he was on the senior attending staff of Providence and Good Samaritan hospitals," but neglects to mention his medical specialty. Turns out he was an obstetrician, which is truly mystifying if you consider the statement he made Monday in support of Akin. Which was:
This is a traumatic thing -- she's, shall we say, she's uptight. She is frightened, tight, and so on. And sperm, if deposited in her vagina, are less likely to be able to fertilize. The tubes are spastic.
Dr. Willke went into greater detail in his 1999 tract:
Every woman is aware that stress and emotional factors can alter her menstrual cycle. To get pregnant and stay pregnant, a woman's body must produce a very sophisticated mix of hormones. Hormone production is controlled by a part of the brain which is easily influenced by emotions. There's no greater emotional trauma that can be experienced by a woman than an assault rape. This can radically upset her possibility of ovulation, fertilization, implantation and even nurturing of a pregnancy.
He also does some fancy math to prove that it's statistically impossible for a woman to become pregnant as the result of a rape. But that's math. Math is way harder than science.