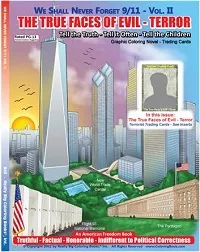 Related Content:
St. Louis-based Really Big Coloring Books is out with a new edition of
We Shall Never Forget 9/11
, an illustrated lesson on how publisher Wayne Bell believes everyone -- including America's kiddies -- should deal with terrorists. As this version of the book "The True Faces of Evil -- Terror" states on its cover, the images and viewpoints found inside are "truthful, factual, honorable and indifferent to political correctness." Oh, and did we mention the book includes terrorist trading cards!
That's right kids! Order today and you and your freedom-loving friends can be trading each other for the likes of 9/11 pilot Mohammad Atta and Iranian president Mahmoud Ahmadinejad. But don't worry parents. The 36 terrorist trading cards don't all feature Arab loonies that could teach your kids to hate all Muslims.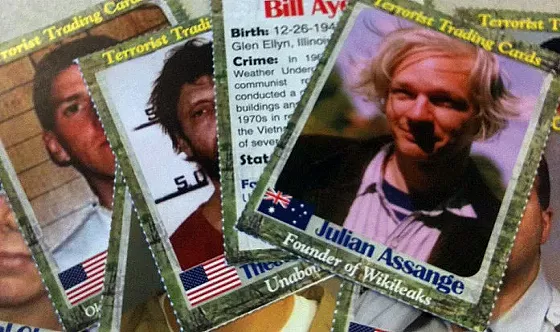 There are plenty of domestic terrorists thrown in the mix, too, like "Unabomber" Ted Kaczynski and Weather Underground co-founder Bill Ayers. And there's also Wikileaks founder Julian Assange. You can't get any whiter than Assange, who the coloring book states is responsible for "many deaths" due to the release of classified information.
Not into trading cards? No worries! The book notes other uses for the cards, such as:
Line your cat's litter box.

Burn them.
Put on floor, STOMP & TWIST.

Use them as coasters.

Scrape dog poo of your shoe.
Sell them online.
And fans of the first coloring book will be pleased to know that the second edition also includes that ol' fan favorite -- a drawing of Osama bin Laden being assassinated.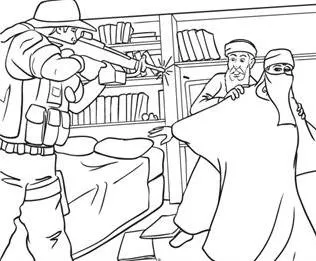 For any terrorist-lovers out there reading this and asking themselves "WTF?" right about now, allow publisher Wayne Bell to explain as he does in the forward of True Faces of Evil:
"People ask, why this book and why this subject? In my mind it's simple: This is good vs. evil. Recognition of terror and evil can be difficult. We know people are capable of bad deeds. We know from the inherent bad nature of a terrorist, evil unspeakable crime exists. This evil may sit next to you on an airplane as a radical Islamic Muslim or it may be an avowed Atheist in the parking lot of your local grocer on a sunny morning. Let's take a look at them, laugh at them, make fun of them, name them -- shame them, recognize who they are and rid the earth of them...This is a book about the real world. It's about being human. There is no fantasy in this book. Tell the truth -- tell it often -- tell the children."