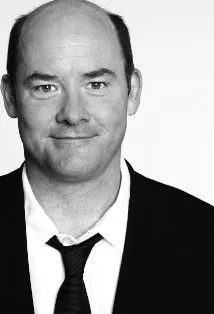 Image via IMDB
Did you know this guy grew up in Missouri?
We've seen this guy
David Koechner
all over the place:
Anchorman
(as Champ Kind, the sportscaster whose tagline was "WHAMMY!"),
The Office
(in which he played Michael Scott's buffoon friend, Todd Packer),
Saturday Night Live
, etc.
But at least we here at Daily
RFT
were gobsmacked to learn that this guy hails from central Missouri, went to Mizzou, was once charged with felony cocaine possession in Columbia (it was a crap charge), and for a time, considered running for political office in the Show-Me State.
We learned it all from comedian
Marc Maron
's podcast,
WTF
. The Koechner episode was uploaded last Thursday, and contains his memories of what it was like growing up in the small town of Tipton (between Kansas City and the capital):
I always knew I was different. You don't want to say 'black sheep,' but I knew I had to get out of town. I knew there was something else going on. I knew I had a different desire.

When you're from a small town, there's not a culture that says, 'You can do anything you want to succeed. If anything, it's, 'Hey, don't get too big for your britches. If you leave, in a way, that shows me being less successful just by virtue of staying.' And it's like, 'No, it doesn't.'

First, he had to make it through grade school:
When I was in sixth grade we went to the local meatpacking plant. We watched a cow being slaughtered from its entry into the squeeze shoot, it being shot, pulled up, throat slit and the whole process of that cow run through the entire slaughterhouse. I was in sixth grade, so this would've been in the 70s....We were all laughing and giggling and punching each other. And just going like, 'Ha ha! So what? We're out of class today.' Because everyone in that class had a farm....No one cried. No one batted an eye. Because everyone had seen an animal be killed. Because they were all farmers.


Koechner's dad made trailers for transporting these guys.
Koechner's parents had both grown up on farms (and used outhouses). But his father was actually a manufacturer: He made turkey trailers that the farmers would use to move their poultry to processing plants. He still had his farm ways, though:
I remember being young and outside our house in town, we had a root cellar....it's on a slanted angle, so it's almost opening up into the ground. Someone was over [talking to my dad], and they were talking casually. Someone had been sent down to get some potatoes, so we open the doors and there's a small rabbit there. This is going to horrify your listeners, but this is just the way things work.

There's a baby rabbit. So my dad, in mid-conversation, causally reaches down, picks up the rabbit and then twists it head off. Because he's a farmer. He grew up a farmer. Now what would that rabbit be to any farmer? It's a varmint. It's going to eat the crops. I tell that story and -- here's the thing, I intrinsically understood what he was doing. It didn't horrify me and go 'Daddy that's a pet!' I went, 'Huh.' It was as casual as opening a can of corn.

The young Koechner went to Mizzou, where he studied political science:
When I started down that path I really had the sense that I could make a difference and help the world.

I went to class until junior year when I realized I had no real shot at a political life....[you either have to be] very wealthy, or you have a family business that's politics, or you're the brightest person in any room you walk into...

But he then visited a friend in Chicago, saw a Second City improv show, and a lightbulb went on in his head. The rest of course, is history.
WHAMMY!