Dave Catanese in a 2011 television appearance.
Related content:
Dave Catanese, a Politico writer and former local political junkie, really stepped in it as the Todd Akin "legitimate rape" thing was absolutely melting down Twitter on Sunday evening. Catanese apologized for a series of tweets and was then pulled from covering the entire issue by his bosses.
All this despite the fact that he charged right in, seemingly, with total confidence in this first tweet: "@davecatanese: Ok, I'm gonna (ask for it) & defend @ToddAkin for argument's sake. We all know what he was trying to say . . ."
It quickly went downhill from there.
As some will recall, Catanese was a beloved KY3 reporter and contributor to the political blog KY3 Political Notebook. He left town for Politico in late 2009, though he seems to have kept a special place in his heart for the goings-ons in Missouri.
So naturally he jumped right in as soon as the boneheaded comments by Congressman Todd Akin lit the internet on fire Sunday afternoon.

For the under-rock crowd, those were again:
First of all, from what I understand from doctors [pregnancy from rape] is really rare. If it's a legitimate rape, the female body has ways to try to shut that whole thing down. But lets assume that maybe that didn't work or something. I think there should be some punishment, but the punishment ought be in the rapist, not attacking the child.
Just in case the fall-out gets worse and the tweets disappear, here's a screengrab of Catanese's entrance into the fray (read bottom to top):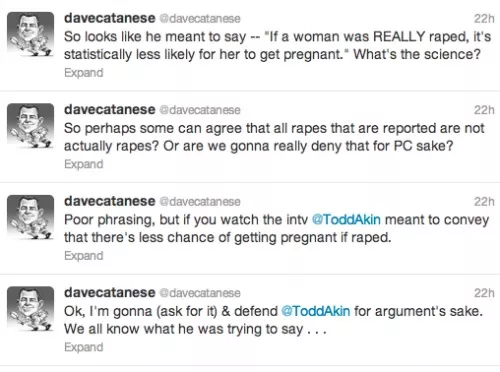 These comments, of course, turned into an epic pile-on and without beating it to death, here's a couple reactions:
Seeing how quickly the Eye of Sauron was turning on Catanese, Daily RFT emailed him to see if he'd like to do a post-mortem in the cold light of day. He never got back to us, then tweeted this on Monday:
Then last night, a memo from Politico's Editor in Chief and Executive Editor hit Huffington Post, subject line, "Twitter":
We have had newsroom conversations about the importance of good judgment on social platforms like Twitter and the perils of letting that slip.

Unfortunately, today offered a good example. David Catanese crossed a line a reporter shouldn't cross on Twitter when he seemed to weigh in on the merits of Todd Akin's comments -- especially in a way many people, including many POLITICO colleagues, understandably found offensive.

Dave's tweets on Akin created a distraction to his own work, and to the newsroom as a whole. They also made himself part of the story, requiring us for now to remove him from Akin coverage.

Today's episode is a reminder that we need to be paying more attention to the ongoing issue of the right way for POLITICO journalists to be using social media. We have raised this issue before, and if you have questions about how this applies to your own work please speak with your direct editor.
Yikes. Since that mea culpa, Catanese's account has gone silent.