Now two of those bunk beds associated with the largest mass suicide ever to occur on U.S. soil can be yours for the low, low price of $1,000 each, or best offer. And if you think that sounds expensive, it's a bargain compared to what the beds once went for online, according to the man behind the Craigslist ad.
"Back in the heyday of eBay we were selling these for $3,000 to $4,000 each," says Troy, who doesn't want to give his last name to Daily
RFT
. "A lot of folks calls people like me kooks, but we prefer to call ourselves 'unique collectors.'"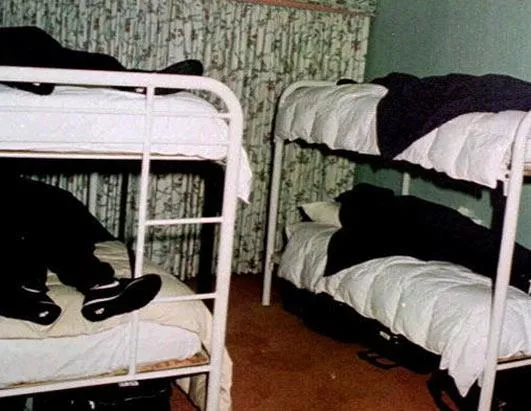 Believers packed suitcases for their space journey and placed them under the beds.
Troy says he and a former business partner bought seven of the Heaven's Gate bunk beds for several hundred dollars a piece in the late 1990s when San Diego County was auctioning off the items it seized from the cult's mansion. When Troy moved from Southern California to Missouri, he took two of the remaining beds with him. They've been occupying space in his garage ever since.
"It's just time to get rid of them and get something new," says Troy of his decision to put the furniture up for sale. "I've got all the documentation on them. The challenge is finding that special buyer."
A tag from the original Heaven's Gate auction.
So far Troy says he's received a few nibbles for the beds, but no perfect matches.
"I had a guy call me the other day haggling over the price. He said he wanted them for his grandchildren. I was like, 'You realize people committed suicide on these beds?!'"
Still, Troy remains confident that someone will soon see his bunk beds and jump at the chance to "own a piece of history" as he words it in the
Craigslist ad
. Hell, Troy once made $5 a pop from selling one-inch by one-inch swatches of clothes belonging to the Heaven's Gate cult members. And those weren't even the clothes they died in! Selling the beds they committed suicide on shouldn't be that difficult -- especially considering that only nineteen such beds exist.
"You might not think there's a market for this stuff" says Troy. "But trust me. There are a lot of freaks out there."