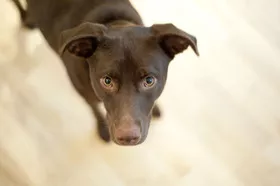 Kholood Eid
Isn't this the sort of face that should represent Missouri?
Dear Representative Ellinger,
First of all, congratulations on your victory in last week's primary! Yes, yes, we know you ran unopposed -- and will run unopposed again in November -- but a lot of people came out to vote for you and only you, which must be a real self-esteem booster. We're very happy that we'll have you as our state rep for another two years.
The election also gave us a chance to revisit your official Missouri House biography -- your civil rights record is pretty damned impressive, we must say. However, we couldn't help but notice that you neglected to include your feelings about pets, notably whether you are a dog person or a cat person or a bird person. (If you are, we, too, are sad about the untimely folding of Bird Talk magazine, a true loss to our noble profession.)
Whichever pet you favor -- or even if you favor none at all because you suffer from allergies (and, again, we sympathize) -- we hope, as a committed public servant, you recognize that Missouri has a serious need for a state dog. We already, of course, have a State Historical Dog in Jim the Wonder Dog, who once lived in Marshall and achieved national fame for his ability to predict Kentucky Derby winners. But there are so many non-historical dogs that deserve recognition, too! And it's pretty embarrassing that lesser states like Wisconsin have state dogs and we do not. After all, we're the headquarters of Purina!
If you are wondering, with the enormous variety of dogs in the world, how you could ever possibly choose, don't fret! Daily RFT took the liberty a couple of weeks ago of narrowing the field down to five breeds and asking our readers to vote. It's true our voting pool was not as large as the one that selected you (another self-esteem booster, right?), but of the 86 who voted, a full 43.02 percent chose the mutt. Why the mutt, you may ask?
Well, as we wrote in our original post that presented the five nominees, Missouri itself is a mutt of sorts, neither north nor south, east nor west. The middle part is overwhelmingly rural, but it's anchored on each side by two big cities. It's got mountains and flatlands, rivers and prairies. It has a long and strange history: During the Civil War, it was officially a slave state, but St. Louis was full of abolitionists.
Like a mutt, Missouri is not terribly fancy. It's not a rich state, no fancy pedigreed show dog. It has odd speckles and spots, not easily duplicated. Our state animal is a mutt of sorts, the Missouri mule.
You may recall the huge kerfuffle over in Kansas this past winter when legislators settled in to vote on whether the cairn terrier (best embodied by Toto from The Wizard of Oz, the most famous Kansas canine ever) should become the new state dog. PETA, naturally, was responsible. Its representatives argued that, should the cairn terrier become the state dog, it would increase the demand for cairn terriers among Kansans and lead to a rise in puppy mills to satisfy that demand.
Missouri, as you surely know, has the most puppy mills of any state in this fair nation. It's an embarrassment. The neutered version of Prop B, which Governor Nixon signed into law last year, is supposed to improve conditions in the puppy mills.
However...what if PETA is on to something? (You know, as the cliche goes, even a stopped clock is right twice a day.)
Chad Garrison
Stray Rescue's Randy Grim and Our Little Girl, a mutt rescued in north city last fall.
What if the enshrinement of a state dog would create a demand for said dog? The puppy mills, which exist, in part, to provide purebreds, would lose one of their raisons d'etre. It would become a sign of state pride to adopt a mutt, perhaps one of the many who languish in shelters across our state.
OK, OK, maybe state pride doesn't extend that far, but don't you think it's worth a shot?
(Plus, mutts may not always be beautiful, but they are, for the most part, far healthier than the fancy breeds, which tend to overbred. Did you know that the bulldog has been so overbred for the adorable wrinkles around its face that it can't breathe? Or that the Boston terrier's brain has turned upside down? Yeah.)
Anyway, we believe the mutts deserve some recognition. You won't see them prancing around at Westminster. Then again, that's not how Missourians choose to see themselves (with the glaring exception of beauty pageant contestants). Elevating the mutt to state dog would show the world that we are a state that doesn't demand pedigree as a prerequisite to greatness.
Think about it.
Sincerely, Daily RFT