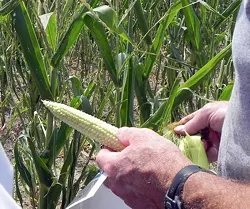 USDA photo by Christina Reed
Farmer Doug Goyings examines the drought-damaged corn on his farm in Paulding County, OH on Tuesday, July 17, 2012
While we're finally getting a break from the summer heat, don't expect any farmers in the Midwest to jump for joy. Crops have been devastated by the drought, and the United States Department of Agriculture's
latest production forecast
reflects the damage.
Corn production is projected to be down 13 percent from last year's harvest, dropping to an expected 123.4 bushels per acre. If that projection comes true, the nationwide average yield will be the lowest for corn since 1995.
Soybeans aren't faring any better. The USDA's forecast calls for a decrease of 12 percent from last year's total, which would be the smallest harvest for that crop since 2003.
So, what do lower crops mean for food prices? Well, higher prices, but the USDA predicts that those prices may not be as bad as you fear. For one thing, despite the potentially low yields, this year's corn harvest is still projected to be the
eighth-largest in American history
.
The
USDA Economic Research Service
predicts that increasing corn prices won't impact consumers for 10 to 12 months in the areas of packaged and processed foods. We will, however, most likely see increases in the next two months for beef, pork, poultry and dairy.