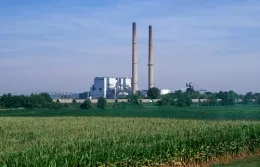 Ameren's Sioux Unit 1 plant in St. Charles County
The good news: When it comes to toxic air pollution, Missouri is not the worst!
The bad news: We're among the twenty most worstest.
According to a report just
released
by the
Natural Resources Defense Council
, Missouri comes in #15 on a list of the 20 states most polluted by coal-fired power plants.
The NRDC got this ranking by analyzing data that the energy industry
self-reported
to the federal Environmental Protection Agency back in 2010 (it's the most recent data available).
There is at least one silver lining to the NRDC's report, though:
The data show a 19 percent decrease in air toxics from the previous year.
The environmental non-profit attributes that to two things: (1) an increased reliance on natural gas plants, and (2) power companies fitting their plants with scrubbing technology to prepare themselves for the onset of the EPA's newest Mercury and Air Toxics Standards.
In June, a
resolution
by Senator
Jim Inhofe
(R-Okla.) to overturn these new regs
was voted down
in the Senate. Missouri Republican
Roy Blunt
voted
for it; Democratic Senator
Claire McCaskill
voted
against it.