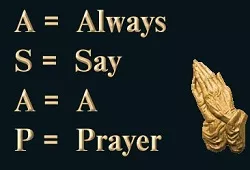 Just don't try it in a Missouri jail after September 6.
On Tuesday, Missourians overwhelmingly voted for Amendment 2, more commonly known as the "right to pray" amendment. The amendment ensures that everybody in the state has the right to express their religious beliefs, acknowledge God in public, and pray whether they're in a school, public building or government office.
But not if they're in prison.
At the very end of the amendment's language is the clause, "but this section shall not be construed to expand the rights of prisoners in state or local custody beyond those afforded by the laws of the United States."
Which means if you're a non-confined citizen, your religious rights are protected by the Missouri Constitution
and
the U.S. Constitution. If you're a prisoner, you only have the religious rights granted by the U.S. Constitution, which are apparently so weak and flimsy that we needed to buy some state constitutional insurance to shore them up.
On Thursday, the American Civil Liberties Union of Eastern Missouri
filed a class action suit
against the Missouri Department of Corrections on the grounds that this revocation of prisoners' state-granted rights violates the Equal Protection Clause of the 14th Amendment.
So the ACLU has filed the first challenge against the amendment because it doesn't do enough to protect religious expression. Betcha didn't see that coming.
But as Tony Rothert, the legal director for the ACLU-EM, explains, "It shouldn't be surprising that the ACLU is supporting religious freedom. From a prisoner's perspective, [Amendment 2] tears up the religious protections of the Missouri Constitution. That provision effectively repeals the right of religious liberty for Missouri prisoners."
Asked what the impact will be to prisoners once the law takes effect (30 days after passage, so September 6 or thereabout) Rothert admits uncertainty. "We don't know for sure. Right now prisons have to accommodate religious beliefs, so prisoners' hair length restrictions are honored, as are special diets, religious garb or jewelry -- it's all protected. Which one of these will no longer be honored? We don't know."
So why was such a potentially rights-abrogating clause written into the law? Rothert says, "It's unclear when it got stuck in there. We did challenge the ballot summary language, and we were aware of this. Voters didn't know, because it wasn't included in the ballot summary."
"Nobody ever mentions the prisoner aspect. They thought the right to pray needed to be written into the constitution, but not for prisoners."