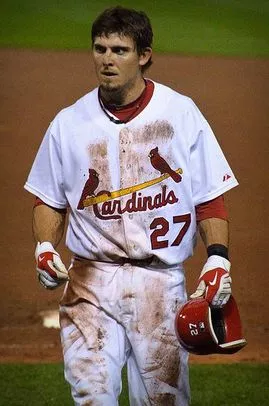 Goodnight, sweet prince, and your dirty-but-underappreciated uniform.
The
Tyler Greene
Era, circa 2009-2012, has officially come to an end in St. Louis.
The enigmatic infielder was traded to the Houston Astros earlier today in exchange for a player to be named later, which in baseball parlance is code for, "We really couldn't give a shit less what we get for the guy. How about you just pick up the tab next time we're out at the bar, and, um, how about that Hardees' coupon I saw on the floorboard of your car while ago? The one for a half-price Thickburger. Good?" So, you know, nice ego boost for a guy.
Greene will not be much missed by Cardinal fans, either, for the most part, and it's really hard to argue he deserves much better. After he committed an error that played a critical role in the Giants' big inning last night, the patrons at Busch actually booed Greene, something that is exceedingly rare for Cards fans.
I've been a supporter of Greene for quite awhile, feeling he never really received the chance at regular playing time he probably deserved, but even for me it's difficult to defend some of the mistakes Tyler has made over the years. The numbers were always much better than you would think if you looked deeper than just a surface glance, but the mental errors in the field and things like that really are tough to overlook. Getting picked off first base in the tenth inning after coming in as a pinch-runner doesn't help matters any either.
Still, even this season under
Mike Matheny
I think Tyler was misused somewhat. Why, I really don't know. All along I and some others have said the biggest thing missing for Greene was an opportunity at regular playing time. The closest thing he received to regular playing this season came in the month of May, when he appeared in 23 games and accumulated 81 plate appearances. That's pretty much a starter's playing time. In that month, Greene posted a .790 OPS and collected 11 extra-base hits in those 81 plate appearances. For a shortstop/second baseman, that's outstanding production.Of course, the problem with even that month was the fact Tyler still managed to hit just .240 (which led to plenty of teeth-gnashing among the casual fans), and only got on base at a .295 clip, which frankly kind of sucks. Still, the shape of his production was unconventional, but the end numbers were plenty good.
In June, following up a May that probably should have gotten him more starts, Greene appeared in 19 games, which isn't bad, but he started just 9 games and received only 46 plate appearances. That's back down to barely two-and-a-half PAs per game, not even straight platoon player playing time. Unsurprisingly, his production tanked to the tune of a .494 OPS. Of course, the narrative put forth by the talk radio types was that Tyler wasn't playing well enough to receive playing time, but the other side of the argument is that yes, he
was
playing well enough to receive playing time until you took the playing time away, but you always end up back in the same chicken-or-egg argument with that line of reasoning.
In the end, it doesn't much matter. Tyler Greene is a frustrating, enigmatic player who never has lived up to his remarkable athletic potential, and watching him play is, at various times, honestly excruciating, even for those of us who really believe he should have gotten more chances.
Tyler will get a fresh start in Houston under one man who
does
apparently still believe in him:
Jeff Luhnow
, the now-GM of the Astros who drafted Greene way back in 2005 while serving as Scouting Director for the Cardinals. I'm not sure what kind of playing time he will see in Houston; they are obviously a team in a different situation from the Cardinals, trying to build with youth rather than contend, but the 'Stros also have
Jose Altuve
manning second base for the foreseeable future.
Jed Lowrie
, the team's shortstop, is injured at the moment, so perhaps there is an opportunity there.
Regardless, I'm a little sad to see Tyler go. I always thought there was more there than we saw, but it's hard to argue a team in contention should keep running a player out on the field with such a proclivity for making mistakes at very inopportune times. At the very least, though, I will miss seeing Greene run the bases. It's unfortunate you have to get on base before you can start stealing them, because Tyler could swipe the bag he wanted pretty much at will. One of the best base-stealers I've honestly ever seen.
But, as the saying goes, you can't steal first. And getting to first was where Greene struggled the most.
Good luck in Houston, Tyler. And I'm hoping that half-price burger tastes really good, Cardinals.