Carnahan's wife Debra, in red, laid a big smooch on the congressman after his concession. She was all smiles as she told Daily RFT that she and her husband won't shrink from the public eye. "Missouri is foremost on our mind. We're not going anywhere."
Rep. Russ Carnahan showed up to his election results watch party last night with a concession speech written on some campaign flyers, folded up in his back pocket.
Before taking to the podium at around 10:15 p.m. to concede defeat, Carnahan sipped a pint of Guinness and went around to thank the supporters and strangers who'd come to the Dubliner pub on Washington Ave. to watch results roll in.
"This new First District, it belongs to the people. They deserved a debate," said Carnahan with a somber face. "The people have decided. They have chosen Congressman Lacy Clay. I respect that decision."
This congressional race pitted two incumbents from powerful political families against one another in a fight for the new GOP-designed District 1, which covers most of Clay's old district.
Pollsters had predicted Clay might have more support across the new district, but Carnahan's campaign staffers said they were surprised by just how dramatically Clay led, with 63 percent to Carnahan's 23 percent last night.
Carnahan told Daily RFT that Missouri should "stay tuned" for news of his future endeavors.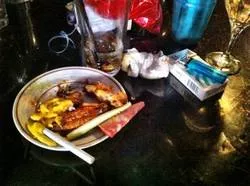 Leah Greenbaum
The sad detritus of political defeat. #closingtimeatdubliner
"For now, my wife and I have to get our youngest son ready to go to college next week," Carnahan said, adding that he will serve out his term in Congress focusing on fiscal policy and reelecting President Barack Obama.
When asked if there was anything he'd like to tell his opponent Wm. Lacy Clay, who took over his father's seat in 2001, Carnahan said "I'm sure he'll be just fine." The battle over District 1 got nasty this summer, as Carnahan attacked Clay's involvement with the rent-to-own Industry, and Clay challenged Carnahan's liberal credentials and ability to represent St. Louis.
Alderman Antonio French of the 21st Ward, who endorsed Clay, tweeted:
Carnahan's concession struck us as measured and somber, but not especially "#notclassy".
"The most important thing to do now that this campaign is over, is to shake hands and just get down to business," Carnahan said.
On Twitter, some declared it "the end of the Carnahan dynasty":

Carnahan is the son for former governor Mel Carnahan and former senator Jean Carnahan, who was on hand last night to tell supporters that this isn't the last we've heard of the Carnahan clan. "This is not a period," Jean Carnahan told the Post-Dispatch. "This is a comma."
Carnahan's sister, Robin Carnahan who is retiring as Secretary of State this year was also talk of the town last night, when the department's highly touted "Election Night Reporting Program" that was supposed to display elections results in real time online, crashed at about 7pm.
A rough night for the Carnahan family. Across town at the St. Louis Gateway Classic Sports Foundation, Lacy Clay celebrated with family and supporters, including early friend Mayor Francis Slay.
Sounds like Daily RFT missed a good party there.