Forget The South Butt; the Winkelmanns have a new venture
The North Face
is fed up -- once again -- with St. Louis businessman
Jim Winkelmann
and his college-age son, Jimmy.
Back on April 14, 2010, after much
media hoopla
, the outdoor apparel giant
settled
its
federal lawsuit
against the Winkelmanns, who
conceded
that their cheeky little company,
The South Butt
, had indeed infringed on North Face's trademark rights. The Winkelmanns vowed to halt sales.
However, a mere two days later, Jim Winkelmann filed papers to form a new company, Why Climb Mountains, LLC, which then began to hawk a new line of products bearing the logo of "
The Butt Face
." You can buy their caps, hoodies and tees
online
today.
So on Friday, The North Face
filed
a motion federal court, insisting that the Winkelmanns have shown "reckless disregard" for the settlement, and asking for the court to hold them in contempt, levy coercive sanctions to ensure compliance, order them to compensate the North Face for losses and attorneys fees, and abandon the application they
filed
in August 2011 to trademark "The Butt Face."
Yup: They've even applied for a trademark. We've said it before, and we'll say it again: The
balls
on these guys!
Up until recently, Jimmy Winkelmann was greeting visitors to The Butt Face's website with the following message (which may set some sort of record for unctuousness):
Hi I am Jimmy Winkelmann - after we put a smile on everyone's face with our The South Butt brand a few years ago we thought there was some more smiling to do. So we put together Why Climb Mountains - a parody clothing company for people who just want to enjoy life and maybe laugh a little at ourselves, after all don't we all need to smile more?

As North Face attorneys see it, "Little Jimmy" is smiling, all right -- all the way to the bank.
Jimmy Winkelmann is up to more mishchief with The Butt Face
They've attached to their motion a printout of a
thread that Jimmy started on Reddit
last March. Asked by one user, "How are u planning not to get into legal trouble again?" Jimmy responded: "My goal is to make money..."
As a matter of law, parodies and profit-making are not always mutually exclusive, argues the Winkelmanns' attorney,
Albert S. Watkins
.
"The courts are split on this," he says. "Revenue is not, in and of itself, dispositive of whether parody can continue. That's an oft-debated issue in federal courts."
North Face counters in its
pleadings
that the Winkelmanns can't hide behind the protective cover of "parody" this time, as they tried to do last time, because the settlement does not allow exceptions for parodies.
Watkins asserts that the new company, Why Climb Mountains, was not a party to that agreement. And in any case, he adds, the plaintiff has known about the new products for a while now.
"I am really shocked that the North Face has waited years to address any concern about the Butt Face."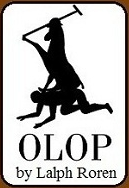 "Olop " = Polo, spelled backwards, with the tagline: "Save a Pony, Ride a Preppy!"
North Face isn't the only company to have pursued the Winkelmanns lately:
Ralph Lauren
recently sent them a cease-and-desist letter upon discovering their new brand of products, "Olop," which is "Polo" spelled backwards. The logo features a horse riding a man with the tagline: "Save A Pony, Ride a Preppy!" But after Watkins responded to Ralph Lauren's letter with the claim that Olop is parody, the company took no action.
"They get it," opines Watkins. "They're not troubled, they don't believe their consumers are at all confused. Nobody going to confuse a polo pony engaging in bestial activities with the fine attire that is being sported by our U.S. Olympic team."
Attorneys for the North Face, on the other hand,
have put forth an empirical study
to show that Butt Face causes confusion in more than 30 percent of adult consumers.
Dr. Gerald L. Ford
, a retired University professor and marketing researcher, set up a double-blind scheme where subjects were shown images of "The Butt Face" and then interviewed. Ford concludes that his survey provides "clear evidence" that exposure to "The Butt Face" name and logo causes an association The North Face, and that his results "support a finding of likelihood of dilution" of that brand.
Some respondents felt
really
strongly about this, such as subject #1132:
Q: What company or brand, if any, comes to mind when you see
this name and logo [of The Butt Face]?
A: The North Face.
Q: Why do you say that?
A: Because it is clearly a parody of The North Face's logo.
Q: What other companies or brands, if any, come to mind when
you see this name and logo on this T-shirt?
A: None. It's The North Face.
Q: Why do you say that?
A: Because it's obvious! It's completely [expletive] obvious what it is! You are making fun of The North Face! It is completely moronic for you to ask me fifteen [expletive] times what it is when it's obvious? God, you market research people are complete [expletive] morons!

So that happened.
Watkins also seeks to portray his clients' new venture in a more personal light: Jim Winkelmann Sr. is suffering from cancer and other severe health issues, he says. This project serves his goal "to not roll over, to have fun, to always keep smiling, and to fight The North Face," all while serving as a "conduit" for his son Jimmy's ideas.
"What is North Face going to get out of this?" Watkins asks rhetorically. "I'm thinking they want free media attention."
Wow. Now
that's
rich.