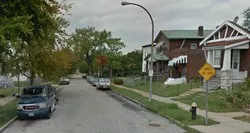 4600 Sacramento Avenue: scene of a tough eviction.
An attempted eviction last night in the Penrose neighborhood turned into a brawl that escalated to gunfire in short order. According to the police incident summary, a 40-year-old black man went to a residence in the 4600 block of Sacramento Avenue at 6 p.m. to evict a man who was occupying the premises without permission. He brought two other men with him, just in case -- evictions don't always go smoothly.
This one, however, went off the rails in short order.
When the landlord told the squatter he had to get out, the two argued. The squatter swung a bottle, which the landlord slipped while punching his unwanted tenant. The squatter then fled.
As the landlord and his two friends were leaving, the squatter popped up in the alley with gun in hand. He fired at the trio, missing the landlord completely but grazing one of the accomplices, a 41-year-old black man, in the left hip. The other back-up, a 38-year-old black man, was shot in the buttocks and foot.
The squatter escaped, and is still at large. He's described only as a black man, age 40 to 45.