Campbell Museum Facebook
This 130-year-old window is in shards this morning.
Updated with comments from the museum's assistant director, additional details of the crime, and lots more photos.


Administrators at the Campbell House Museum downtown shared pictures this morning of an apparent break-in at the restored 161-year-old home.
"Gah," the caption above a picture of a smashed window reads. "We had some unwanted visitors last night."
The picture shows an etched and frosted, quarter-inch thick door window pane smashed by a chunk of concrete. The pane was 130 years old.
According to a press release, the museum's weekend manager Lindsey Davis lives on the property and heard the alarms go off around 10 p.m. Davis discovered the outer doors jimmied open, the glass pane smashed, and the front doors wide open. She also found an empty cash box on the floor.
Shelley S. Niemeier
The concrete chunk used to break the window.
Though $98 was missing from the box, Assistant Director Shelley S. Niemeier says that's not the real cost here -- it's the destruction of the front door window pane. A repairman has already been in to assess the cost of replacing it.
"We'll have an estimate by the end of the business day today," says Niemeier. "We don't know how much, but it's going to be a lot. The window dates from the 1880s, it's a very ornate, etched window."
But history buffs being history buffs, Niemeier naturally found something to learn from the experience.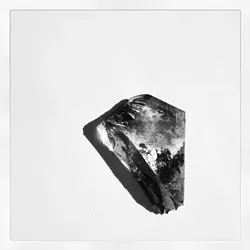 Shelley S. Niemeier
Soot-covered glass found in the door frame.
Workers had to rip the broken pane out of the door frame, and underneath the wood found the glass covered in soot.
"It totally speaks to the time, you had coal dust and the gas light fixtures," says Niemeier. "It shows the general filth and pollution coming in through that window."
This is also not the first time some ne'er-do-well has hit the museum coffers. A week and a half ago, a museum employee gave six visitors a tour and put their entrance fees into a cash box kept in a dresser drawer in the building's foyer. When the tour guide returned, the money was gone.
The official police report on yesterday's break-in hasn't been filed yet, and "the investigation is ongoing" according to a police spokesperson. According to Niemeier, there's little to go on in terms of who did this.
"Robert Campbell," the fur trader, merchant, and real estate mogul who moved into the home in 1854, tweeted his own thoughts on the matter this morning:
The Schlafly brewery tweeted back that beers are on the house tonight.
Check out more pictures of the damage after the jump.