Image via
Brunner leads PPP poll on the eve of the GOP primary
According to an
automated phone poll
over the weekend of nearly 600 people likely to vote in Missouri's GOP primary tomorrow,
Brunner enjoys the most support among moderates, but the way-more-conservative Akin has been surging lately, and his supporters seem more fired up about voting. Thus, the pollsters claim, an Akin upset is not out of the question.
The spread is even wider in the Lt. Governor's race.
There, incumbent
Peter Kinder
is favored 42 percent to state Senator
Brad Lager
's 30 percent.
Then there's
Ed Martin
, who's up 46 - 17 over his Republican opponent in the race to try to unseat Attorney General
Chris Koster
.
None of these outcomes really turns conventional political wisdom on its head.
But one set of responses on the Senate race at the very back of the poll results caught our eye: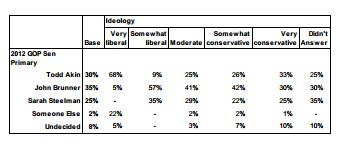 What this suggests, first of all, is that some Republican voters actually consider themselves "somewhat liberal." Those people
exist
. Just as with mountain lions, if you spot them in the wild, you should contact the Missouri Department of Conservation.
As for the "very liberal" segment, we interpret them to be not Republicans at all, but rather, hard-core Dems pulling the lever for Akin because they believe his extreme views makes him more likely to lose to Claire McCaskill. (Why else would a "very liberal" Republican vote for the most conservative candidate)?
But they might be wasting their time. A
New York Times article out today
says that super PACs, including those operated by
Karl Rove
and the
Koch brothers,
have already spent $15 million against McCaskill, leaving her "in deep trouble."