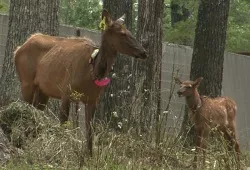 Courtesy Missouri Department of Conservation
Cow elk and calf in the Peck Ranch holding pen, awaiting re-release into the wild in June 2012.
This summer's lethal heat and ongoing drought have claimed at least a half-dozen more victims, but none are human.
Six female elk, one yearling bull elk and three calves
died in mid-July, and the Missouri Department of Conservations suspect that the blistering heat and drought are contributing factors.
You may recall that Missouri relocated
wild elk from Kentucky last year and this year
in an effort to reintroduce the animal to the ecosystem. The plan had its detractors, most
notably the Farm Bureau
, which believed the beasts would cause damage to farms and roads. It turned out that it was the other way around -- Missouri's currently harsh environment is dealing damage to the elk.
All of the dead elk were transplants who arrived in Missouri earlier this year. The animals all were subjected to necropsies, which have not returned any disease nor pinpointed any one cause of death. The MDC is also confident that poaching was not involved. All of the elk had clean bills of health when they were examined in Kentucky.
MDC Resource Scientist Lonnie Hansen said in an official statement, "What we could be seeing is stress that is catching up to some of the 2012 elk a month after being released, compounded with abnormal and extreme heat and drought conditions." He further noted that "We expect some setbacks with this or any wildlife restoration project, especially with the grueling heat and drought. Elk are generally very adaptable and very tough, and Missouri's restored herds will continue to acclimate and grow."
The surviving 80 elk are staying near Peck Ranch and the Nature Conservancy release site, and have adequate food and water supplies.