Jessica Lussenhop
The sign at the corner of Red Bud and Carter.
The urban farming trend that's sweeping the nation has turned ugly in North St. Louis, where local politicians are squabbling over the fate of a community garden.
That's not what she intended, insists 21st Ward Committeewoman Audrey Larkin, when she helped start Northside Community Garden 15 weeks ago. Standing among the raised garden beds on a steamy afternoon, she tries to explain how she and 21st Ward Alderman Antonio French came to butt heads over something as innocuous as a vegetable patch.
"It has zero to do with politics," she says. "If you can feed your community for free it's better than any office."
Larkin says she and other community members assumed the corner of Red Bud and Carter wasn't owned by anyone. The plot had been filled with so much garbage, there were walking paths worn through the detritus. They formed a group called the "Northside Gardeners," put the raised beds in, and started planting. Today, the lot has bell peppers, tomatoes, zucchinis, sunflowers, corn, watermelon, and a bevvy of other vegetables and herbs poking out of the soil. Residents come and help, and take whatever they like once it's ripe.
"I think it's a beautiful thing," says Umar Lee, a blogger and community activist who helped found the garden. "The young people are experiencing how to garden. They may take an interest in gardening."
That was all fine and good until the ward's Neighborhood Improvement Specialist alerted Larkin that she needs a garden permit to legally keep the project going. That's when Larkin found out that the land already has a garden lease -- taken out by French.
About a year ago, French lead the effort to purchase a church on the corner of Red Bud and Rosalie, and turn it into a community center. Through donations and a partnership with Incarnate Word Foundation and The Acts Partnership, French closed on the building and also leased the empty lot on the other end of Red Bud. "The Sanctuary" intends to start offering after-school programs in the fall, and French says his group may want to turn the space into a parking lot for employees and visitors. He says they've already spent about $2,000 fixing the sidewalks and beautifying the empty lot.
When Larkin asked French to transfer the garden lease to her name, he declined and explained his plans. Though Larkin concedes she did not ask permission to start the garden, she says she's appalled by the alderman's plan.
"This is one of the worst streets to put a parking lot," says Larkin, referring the long history of gang warfare on the 4400 block of Red Bud. "The garden gives it a different perspective. It's not just one of those streets where death is going on."
Antonio French's "Sanctuary"
In response, Larkin has started two online petitions (here and here) and a signature gathering effort in the neighborhood in the hopes that they can save the garden. She estimates they've gotten about 800 signatures online and in North City.
Meanwhile, French complains the petitions are giving residents a false impression that he could raze the garden any day now.
"There's no immediate plan. Maybe we'll find that a shuttle system alone prevents the need for additional parking," he says.
He's agreed to let the garden remain for the summer, but says the parking lot could move forward as early as this winter. That means the garden will have to be dismantled at the end of this growing season. He's offered to help find a new site.
But French also says that Larkin has known about the situation for weeks, and is only bringing it up now because she's up for re-election next week. He became so incensed by the petitions he drafted a letter to residents telling them his side of the garden saga.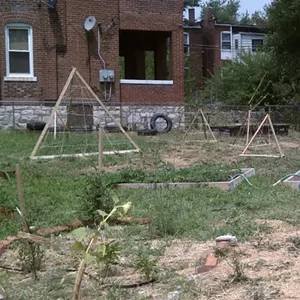 More of the handmade garden structures.
"Ms. Larkin and Kerry Wilson, both of whom are seeking election in two weeks against two other candidates who I support (Jamilah Nasheed and Michael Watson), began telling people that the bulldozers are on the way to tear down the garden. This is an absolute lie," the letter reads.
While French states bluntly that this is simply a matter of politics, Larkin says she's just trying to save a worthwhile project. She plans to submit the signatures to French, Mayor Francis Slay, and Board President Lewis Reed at an as-yet undetermined future date.
"We're trying to show him how much the garden means to people," she says.
Check out some more picture of the garden after the jump, and Alderman French's letter to the neighborhood.
Northside Garden Facebook page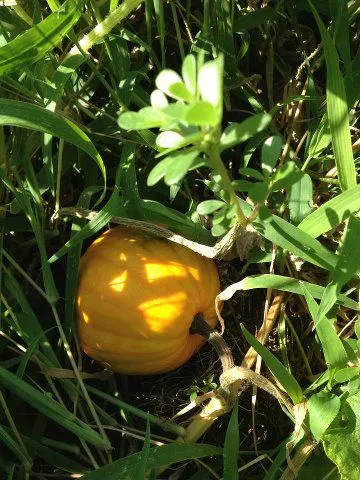 Northside Garden Facebook page