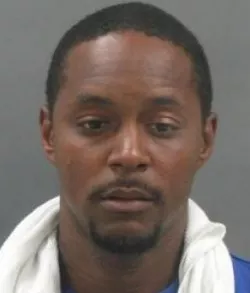 Donrico Holmes (photo taken during previous arrest).
Donrico Holmes, 32, has been charged in connection with the armed robbery and sexual assault of three girls ages 12 to 17 on July 23. Holmes is not in custody at this time, however; police released this mugshot from a prior arrest. At the time of the alleged assault, Holmes had short braids, as
seen in the police sketch
released earlier.
On the night of July 23,
Holmes purportedly held the three girls at gunpoint
, demanded two of them undress and then molested them in turn right there on a North City street. He then left with their cellphones.
Holmes has been charged with two counts of first-degree robbery, two counts of sexual assault, eight counts of armed criminal action, one count of attempted sexual abuse, two counts of attempted first-degree robbery and one count of first-degree assault.
Police are actively searching for Holmes at this time. Anyone with knowledge of where Holmes can be found is asked to call CrimeStoppers at 866-371-8477. A reward of up to $1,000 is being offered.