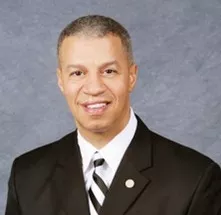 Alderman Gregory Carter, killed Wednesday in a traffic accident.
Patrick Mullen, the driver of the pick-up truck that began the pile-up that lead to
the death of Alderman Gregory Carter
, has been charged with
involuntary manslaughter and driving while intoxicated
according to KMOV.
According to
Missouri Highway Patrol documents
, Mullen was taken to St. Joseph Health Center after the accident and was then released from custody. It is not known if he has been taken into custody since the filing of formal charges.
Funeral services have been finalized for Ald. Carter.
A public viewing of Mr. Carter will take place at 8 a.m. Saturday, August 11, at
Friendly Temple Missionary Baptist Church
(5515 Dr. Martin Luther King Drive; 314-367-9700). The funeral will take place immediately afterward, at 10 a.m.