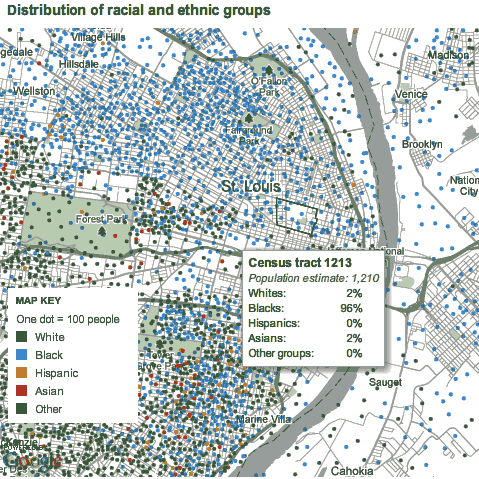 Does race still matter in St. Louis politics? It's
one of the most divisive questions
in this city and one that every candidate and political operative thinks they can answer.
Writing for
St. Louis American
this morning, Alderman
Antonio French points out
that due to redistricting, several primary races are split between a single white candidate from South City and multiple black candidates from north of Delmar.
The alderman from the city's 21st ward cautions that if black candidates do not win these elections, where the odds are stacked against them, St. Louis, a city that is roughly 50 percent African American, will have no black representatives in Congress, the Missouri Senate or in the state House.
"It could mean a majority-black city having almost no black representation in these branches of government for the first time since before I was born," French writes.
There are multiple black candidates facing a single white candidate in these races:
State House of Representatives District 84

Mike Owens: a white male and former journalist who is married to the city's 28th Ward alderman,

Lyda Krewson

.

Hope Whitehead: a former attorney and small business owner, who is a black female.

Karla May: a black female who currently serves as state representative to District 57 (which has been redrawn into 84).




State House of Representatives District 78

Penny Hubbard: A black female who currently serves as state representative to District 58 (which has been redrawn into 78).

Samuel J Cummings: A black male and recent college grad who grew up in Soulard.

Ruth Ehresman: A white female who has spent many years working in public policy.




State Senate District 5

Jamilah Nasheed

: A black female who has served as state representative to District 58 since 2007

Jeanette Mott-Oxford

: A white female who has served as state representative to Distict 59 since 2005.
Political operatives have also characterized these contests as marked by racial tension of some kind:
State House of Representatives District 79

Michael Butler: a black male and legislative aide to a Missouri State Senator

Martin Casas: a Hispanic male who owns Frontyard Features and has worked on several progressive campaigns.




U.S. House of Representatives District 1

Lacy Clay

: a black male who has followed his father, the late William Lacy Clay Sr., in representing Missouri's 1st District (roughly 80 percent of which now falls in the new District 1)

Russ Carnahan

: a white male who has represented Missouri's 3rd District since 2005 (the remaining 20 percent of new District 1 is part of Carnahan's old district)

Candice Britton: a white female who receives her income from Social Security disability for a neuromuscular disorder.




St. Louis City Sheriff

Jim Murphy: a white male and long-time incumbent, whose administration has been marked by inefficiencies and mismanagement including

a 2010 court ruling

that found him guilty of upholding a racially hostile workplace.

Vernon Betts: a black male who is a former deputy sheriff and administrator for Ameran, and an assistant minister at Shalom Church.



Democratic operative Glen Burleigh, who is managing campaigns for Butler and Wright-Jones, said victories for white candidates in these districts will reverse the progress black politicians have made.
"What's really insidious about this, is that none of these candidates [referencing Casas, Mott-Oxford, Ehresman: and Owen] are trying to get black voters cut out of politics but that's the impact of what they're doing," Burleigh told Daily RFT last week. "People have forgotten how much it impacts the African-American community when they don't have representatives in government."
Burleigh said that in race like Senate District 5, since Oxford and Wright-Jones have much the same voting record, it would be more progressive for a voter to choose his candidate.
"My main concern as someone in Democratic politics, is that the legislative landscape here could change tremendously and it won't reflect this city anymore. That's not good for anyone," Burleigh, who is white, said.
Mike Kelley, another Democratic operative, said he believes these contests should not be viewed as white vs. black, but as a consequence of purposeful redistricting, orchestrated by Republicans in Jefferson City.
"Republicans strategically and overtly placed as many Democrats into concentrated districts as possible to cause these conflicts to happen," Kelley said, explaining that since Democratic support tends to come from urban areas, Democrats often face more diverse districts where racial politics are perceived to come into play more often. "It's hard for Democrats during primary elections because we are so concentrated in urban areas it's easier to pack us into districts.... I think we're dealing with ultimately what the Republicans wanted to have happen.
Last month, Casas, who is half-Latino, half-white and would be the only Latino representative in the state house if he wins next week, told Daily RFT that people had discouraged him from running for the 79th District because it is "historically a black seat."
"A lot of younger people don't recognize the white vs. black divide," Casas said, counting himself among them. "They just see neighbors. ... My experience has been that where ever I go no one cares what the color of their skin is as long as they're good neighbors."
But according to Betts, race among other things in his run for sheriff, is a factor that cannot be ignored. In 2006, several sheriff deputies hung a
noose
from the ceiling of a holding cell.
"What got the sheriff in trouble was his lack of action," Betts said. "He just said they were horsing around, and maybe they were, but the fact is you can't play like that in the 21st century. You can't hang a noose in front of a black man... and he just didn't understand that."
Leah Greenbaum is a white female. You can follow her on Twitter @lgreenbaum1214