Mother Of The Year: Latonya Davis
Related content:
[VIDEO] St. Louis Mother Encourages Toddlers to Fight: "Ya'll Better Ball Up Some Fists!"
Here's a follow-up to a story Daily
RFT
brought you early last month. Latonya Davis, a 21-year-old mother from the 4800 block of Bessie in north St. Louis, has been identified as the person who posted a video last month of two toddlers fighting on Facebook. The video went viral in early July after a local news station posted it online and outlets like the
New York Daily News
followed suit.
In the video posted below, Davis can be heard encouraging the children to fight as the children scream and cry. Police have identified one of the kids as Davis' daughter and the other as a boy she was babysitting. Both kids are under the age of four.
"Ahh, shit. Got some action! Got some action!" Davis yells as the children begin punching each other in the face. "Ya'll better ball up some fists! Hit back!"
Yesterday, the St. Louis Circuit Attorney's Office named Davis as the defendant in the case and charged her with two counts of child endangerment. In a probable cause statement released yesterday, St. Louis police officer Tonya Tanksley wrote that Davis admitted filming the video sometime between June 25 and July 2 and uploading it onto her Facebook page.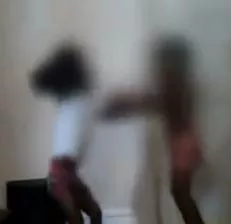 A still from the video in question.
"I believe that the defendant poses a danger to a crime victim, the community, or any other person because defendant took obvious pleasure and amusement in causing a three-and-a-half-year-old child and a two-and-a-half-year-old to engage each other in a physical fight," Tanksley continued in the probable cause statement. "Each of the children appears to be in great distress and crying hysterically. While this is going on, defendant video taped the fight and can be heard encouraging the children to ball their fists and strike each other. Defendant was so proud of what she had done, that she then posted a video of the fight to her Facebook account."
Child endangerment is generally prosecuted as a Class C felony in Missouri, according to state statutes, and carries a maximum sentence of seven years in prison.
A copy of the video follows...