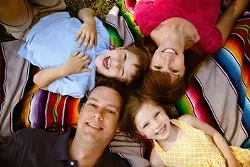 The Murch family in a Facebook photo.
The Major Case Squad continues to investigate what appears to be the murder-suicide of Catherine Murch, 42, and her two children Mary Claire, 9, and Mitchell 11. Mitch Murch II, husband and father, is not a suspect at this time. Details of what happened Monday morning in the quiet suburb of Glendale, Missouri, continue to emerge, but a reason for the murders continues to prove elusive.
Neighbors consistently describe
the family as happy and churchgoing.
Glendale Police Sgt. Bob Catlett issued a statement that said investigators were still developing the case, "to try to determine what exactly happened and the sequence of events."
The chronology of the incident right now is that Mitch Murch called 911 at 10:57 a.m. Monday morning from the family's home in the 700 block of Hawthorne Avenue. He told the operator that his wife had shot their two children and herself.
Police responding to the scene found Catherine Murch in the kitchen of the two-story home. She was pronounced dead at the scene. Mitchell Murch was in a side room, and Mary Claire Murch was on the second floor. The children were pronounced dead at area hospitals.
Mitch Murch told police that he was inside the home, and heard the shots but thought they were outside. He ran to the front door, and that's when he discovered his family.