Leah Greenbaum
Michael Allen, in hat and bow tie, leads tours into the Pruitt-Igoe site.
Most St. Louisians worth their salt know
the myth of Pruitt-Igoe
: a huge public housing complex opened in the mid-1950s to replace slum apartments, demolished just 20 years later in disrepair.
But interest in the 33 acre vacant lot that remains has spiked recently, following the release of the 2010 documentary
The Pruitt-Igoe Myth
(currently streaming on Netflix for the kids at home) and the formation of
Pruitt-Igoe Now
, a non-profit that has been exploring ideas for the site as
developer Paul McKee circles
with the city's blessing.
Last week, Daily
RFT
tagged along with Michael Allen, a local architectural historian and bow tie enthusiast, who led 120-odd intrepid-ish explorers into the wilds that have cropped up amid the ruins. Read on for photos and factoids even the biggest architecto-nerds may not know about the site (bet you can't guess Mitt Romney's very direct Pruitt-Igoe connection).
Allen says he's led 45-50 tours of the site this year (he emphasized that some of those tours were quite small, but, hell, most of us out there haven't been to our living rooms 50 times this year.)
McKee hopes to incorporate Pruitt-Igoe into his massive $8.1 billion Northside Regeneration Project, which is currently in legal limbo as a lawsuit to thwart the project awaits review by the Missouri Supreme Court. But Allen and others say McKee's plans, which have been favored by Mayor Francis Slay and various city agencies, does not reflect the spirit of the site or the needs of the community.
Allen, who heads up Pruitt-Igoe Now, launched a design competition to solicit ideas about how the remaining 33 acres can be used. The competition was not sponsored by McKee, who is still trying to come up with more popular uses for the land, or the city-run Land Clearance for Redevelopment Authority, which actually owns the site.
The winning projects, as judged by various urban planners and academics, are on display at the
Old North Saint Louis Restoration Group
until August 31.
Here are six surprising factoids we picked up from Allen's tour last week about the place that continues to haunt politicians, architects, city planners, and community organizers.
Most of the rubble piles around Pruitt-Igoe come from the site where the Rams' stadium was built.
6. The forest grew from the Rams' landfill
In 1995, as the city set to work on the Edward Jones Dome stadium, they had a tough time figuring out what to do with all that extra debris and concrete that was piling up downtown. Luckily, just two miles away the city had 33 acres of unused land, so they dumped it there.
According to Allen, the Pruitt-Igoe site wasn't forested until after the city began dumping rubble there. Some pin oak trees from the original Pruitt Igoe development are still visible around the site, but the dominant theory now is that seeds were mixed in with the rubble. By some urban miracle those seeds managed to flourish in that awful soil and today the site is wooded like something out of a Brothers Grimm tale.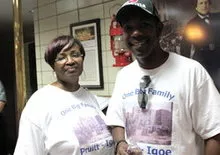 Sarah and Donnell Phillips in St. Louis Fire Department headquarters, which they knew as the Pruitt-Igoe health clinic where they received vaccinations as kids. Their "One Big Family Pruitt-Igoe" t-shirts come from the annual reunion.
5 . Before video games, everyone knew 'Mama Peg'
Two former residents of the Igoe Apartments were on Allen's tour and saw their childhood home, or the thicket trees where it once stood, for the first time in 40 years. Siblings Sarah and Donnell Phillips said they attend Pruitt-Igoe reunions every year, where they reminisce with old playmates and neighbors.
The Phillipses said that one common misconception about their old home is that it was always a miserable, filthy, crime-ridden project. Not so, says Sarah who remembers living around the corner from her school and right near a community center with a pool, a luxury her own children didn't have years later living in the suburbs.
Donnell says every Pruitt-Igoe kid knew and loved "Mama Peg," a game where kids tried to land an ice pick into a hole facing up. It was a phenomenon across the housing complex for years. "You say 'Mama Peg' and everyone who lived at Pruitt-Igoe knows exactly what you're talking about," said Donnell, one of ten siblings who lived in a double apartment (two bedrooms) on the seventh floor of Building C-15. "I've never seen that game anywhere else."
4.
Well, probably not. But, despite the demolition and piles of rubble that cover the site plenty of manholes are still visible and functioning. Allen says the entire underground infrastructure of the sight is still intact, meaning steam tunnels, sewers, electric wiring and all that stuff is still there. Wishful thinking or laziness around demo time?
3. Real estate deal of the century?
McKee has an exclusive two year option on the Pruitt-Igoe site that cost him $100,000. If he chooses to take over the site for good, the city will sell for $900,000. That's just $1,000,000 for 33 acres of land just two miles away from downtown St. Louis. Sure, Pruitt-Igoe may be full of decades-old landfill and pollution, but if that's not the real estate deal of the century, we don't know what is. There are 2,000 square foot apartments in Clayton that cost more.
2. Pruitt-Igoe almost turned into a state penitentiary. Irony: 1, Missouri: 0.


After Pruitt-Igoe closed its doors, the state briefly considered converting several of the remaining towers into midsize, low-security prisons. Luckily someone on the state's Pruitt-Igoe Taskforce thought better of it, and the plan was quashed by 1973.
Even the Romney men like blowing $h!t up.
1. George Romney gave the final order to tear Pruitt-Igoe down


In May 1971, George Romney, Secretary of Housing and Urban Development and father of presidential aspirant Mitt Romney, toured the Pruitt Igoe site. Only 600 of 10,000 possible tenants remained at that point and 16 of the 33 buildings had been boarded up and abandoned. It was a quick tour. The next year, Romney Sr. gave the final order to tear the buildings down and start over. Needless to say, those "start over" plans never quite materialized.
According to Allen, somewhere out there is a recording of Romney speaking to President Richard Nixon about the defects of Pruitt-Igoe. If any of you tech-savvy Nixon dorks can find that tape on the Internets, we'll post it and send a virtual tip of the hat your way.