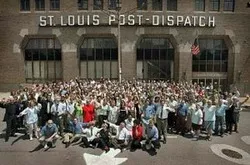 [
UPDATE 5
:
Latest news out of 900 North Tucker is that 23 people have been laid off at the Post-Dispatch today, 13 in the newsroom and 10 more in advertising. Absolutely brutal news for our daily paper, and for the St. Louis community today.
]
[
UPDATE 4
: The current tally,
according to social media dynamo Erica Smith
: "four editors, three reporters, three copy editors, a photographer, a web editor and the editorial cartoonist." Thirteen newsroom employees so far, all because of "economic issues," in a memo sent to remaining staff by editor Gilbert Bailon. Former RFTer Amir Kurtovic tweeted this right before I hit publish:
[
UPDATE 3
:
Romenesko has the names of the three other P-D staffers laid off last night. Front page editor/deputy managing editor Steve Parker, photography editor John Larry Coyne and assistant metro editor Tim Bross round out the quartet let go last night
.]
[UPDATE 2
:
Over at Gutcheck, Ian Froeb has confirmed that food editor Judith Evans, a 26-year vet of the P-D, was one of the four laid off last night
.
We wish her well
,
and the same for the full Post staff
.]
[
UPDATE
:
Post-Dispatch sports content editor David Sheets just tweeted that he received, via phone call, notice that he's been laid off. Good luck, Mr. Sheets
.
Original post follows
.]
Media reporter Jim Romenesko
has word that four news managers were laid off by the Post-Dispatch late Thursday night
, with rumors swirling that as many as 20 more people will be following them out the door today.
This news comes immediately after the news that Lee Enterprises CEO Mary Junck received $655,000 worth of stock in the company at no cost to her (that stock has dropped four cents since yesterday, down to $1.26 per share).
If I may be so bold as to ask, what the hell kind of business strategy do you call giving the boss a big bonus and then giving staff their pink slips? Is this trickle-down economics at work,
or merely simple plundering
?
United Media Guild tweeted this last night shortly after word of the layoffs:
We've reached out to United Media Guild for a comment, and we'll keep you posted as we learn more.