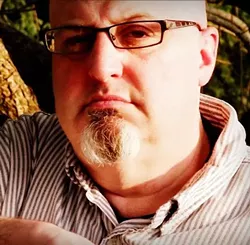 Taff reads from Little Deaths July 29 in south St. Louis.
John F.D. Taff can trace his obsession with horror to the nights he and his siblings would stay up waiting for their father to arrive home.
"My dad worked as a St. Louis policeman and logged late and long hours," recalls Taff. "My mom was a big fan of horror films back then, only she was too scared to watch them alone. She'd enlist my brother, sister and me to watch them with her. We all grew up loving those movies."
Taff would return to the horror genre time and time again, first as a hobby writer and then as a paid contributor to various horror magazines. Now the 48-year-old author is out with his first compilation of short stories, Little Deaths, published this spring by Toronto-based Books of the Dead Press.
Yesterday Daily RFT caught up with Taff prior to his book signing this Sunday from 2 p.m. to 4 p.m. at I Scream Cakes (2641 Cherokee St., 314-932-5758).
Daily RFT: Little Deaths is getting some recognition already, appearing on the Horror Writers Association's 2012 Bram Stoker Award Reading List 2012 reading list. Are you surprised?
Taff: I'm very pleased. I think the book is a pretty good representation of where I've been as a writer and where I'm going. I'm getting the point in my career that I thought I'd be twenty years ago. But it takes time to evolve and write enough stories to make a book. About half the 19 stories in Little Deaths are new and about half are stories I've published in magazines -- some a long time ago.
The opening story in the book is an amusing tale about a guy bringing his dead girlfriend back to life by using some old props from a Frankenstein film. Where do you get your ideas?
That story actually came to me in a dream. But that's a rarity. I'm just always looking for ideas and considering stories I've heard over time. When I was a kid my mother would take us to the library and my siblings and I would clear the shelves of books on UFOs, bigfoot, the Loch Ness monster. Basically, anything dealing with the paranormal.
Who is your favorite horror author?
Edgar Allen Poe is the master. Stephen King is really good. But my favorite is Peter Straub (Ghost Story). That said, I try not to read too much horror. I don't want it floating in my head and influencing my own work. I'm more into reading historical non-fiction these days.
How would you describe your writing?
I like to think that it's psychological. Some people compare it more to the writing for the Twilight Zone than, say, a slasher film. There isn't much blood and guts in my work. In fact, I'm probably the horror writer with the weakest stomach imaginable. Is that why you're having your book signing at an ice-cream parlor?
I was looking for a place to hold the event and some of the local bookstores -- not to name names -- are kind of snotty with who they want and the hoops you have to jump through. A friend suggested Ice Scream. The owner, Kerry Soraci, makes ghoulish-looking desserts that are so good. It's the perfect spot.