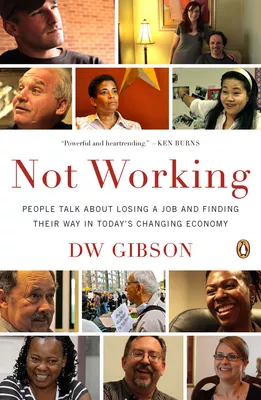 For many journalists, including DW Gibson, Studs Terkel's Working, originally published in 1974, remains a touchstone. Terkel took his tape recorder out into the streets of Chicago and interviewed some 200 people about what they did all day and how they felt about it, and then edited their responses into a series of monologues.
A few years ago, Gibson and his friend Colin Robinson, a book editor, were discussing Terkel and Working. Gradually the conversation turned to the Great Recession and Robinson's own experience being laid off from his editing job at Scribner's in November, 2008, a day known in the publishing world as Black Wednesday.
"The story had all the familiar touchpoints," Gibson recalls now. "He got the call to come into the office and had a bad feeling. He said, 'When they closed the door, I felt worse. And when they told me to take the comfortable chair, I knew.' And then he found himself comforting the people who were giving him the news."
Gibson felt sympathy for his friend. But he also saw something else. "I recognized something helpful and hopeful in the telling," he says.
That was an idea that Terkel, who died in 2008, might have recognized as well. And thus a book was born, a Working for the recession called (naturally) Not Working, out two weeks ago.
Last summer, Gibson and two friends, Mallery Avidon, a playwright, and MJ Sieber, a filmmaker, and, occasionally, Gibson's wife Tasha Garcia Gibson (when she could get time off from her own job) piled into an un-air-conditioned Jeep and set off on a cross-country story-collecting odyssey, from Orange County, California, to Camden, New Jersey, including a stop in St. Louis.
"We found people by every means," Gibson says. "Soup kitchens, professional networking, church. We went to church a lot. We went to unemployment offices and stood outside in line in the Fresno heat and the St. Louis heat. We talked to beat reporters from the local papers, who turned out to be very helpful, Facebook friends, everyone we could think of. When we weren't talking to someone, we were looking for someone to talk to. We worked all day, eighteen-hour days. We ran on adrenalin."
In the end, they interviewed 200 people for the book; 70 of those interviews were also filmed for a documentary. In the basic outline, the interviewers found, many of the stories were very similar, but once they delved deeper and unique details emerged. "Everyone brings something new," Gibson says.
The purpose of the project was perhaps best articulated by a draftsman from West Des Moines, Iowa, who had been laid off three times within the span of eighteen months. When Gibson, Avidon and Sieber met him, he was holding himself together by working three jobs: a paper route in the middle of the night and cashier jobs at Tru-Value Hardware and a Hy-Vee grocery store during the day.
"People would come into the Hy-Vee and say to him, 'Didn't I see you at the hardware store this morning?'" Gibson recounts. "And then he'd have to explain [that he'd been laid off]. At first it was hard for him, but then he started to become the person other people came to to talk about their own unemployment stories. They weren't alone anymore. He started to feel a sense of community."
DW Gibson and his wife and sometime-collaborator Tasha Garcia Gibson.
Currently, the official unemployment rate, according to the U.S. Bureau of Labor Statistics, is 8.2 percent. But Gibson believes that the number of people affected by layoffs and unemployment is actually far greater: people who didn't lose their jobs altogether but whose hours were cut back or people, like the man in Iowa, who managed to find part-time jobs after getting laid off from full-time positions.
"Any economist worth their salt would say the true unemployment rate is around 17 percent," Gibson asserts.
"But the lower number is more useful to politicians," adds Tasha Garcia Gibson. "It's more comforting to hear 8.2 percent than 20 percent."
And even the higher number doesn't factor in the spouses and families of people who have lost their jobs and have to deal with the loss of income. In the course of their travels, too, Gibson and his team encountered entire towns -- namely, DeWitt, Nebraska, and Empire, Nevada -- that had been devastated by the closing of the mines and factories that had employed most of the townspeople.
"You look at DeWitt and Empire and you understand the full measure of what unemployment can do," Gibson asserts. "It affects the whole community, the grocery store, the amenities, the local services. People fixate a lot on the President, on Barack Obama and Mitt Romney, the stuff in Washington, but it's the state government, the county government, the local government that affect our lives in a substantial way that Barack Obama never has."
There is no Empire, Nevada, anymore. The town's entire economy depended on the gypsum mine that supplied the drywall for Reno's housing boom. When that bubble burst, the mine shut down and Empire's human population of 350 was forced to leave. All that's left now is a chain-link fence surrounding the remains.
This summer, in order to promote the book, Gibson (and sometimes Garcia Gibson) are revisiting some of the people and places that appear in the book. Instead of doing all the reading himself, he's asking some of the people featured in the book to read their own stories. In St. Louis yesterday morning, he did a reading at the GO! Network at St. Patrick Center with Roni Chambers, a former HR executive at Anheuser-Busch who had to lay off 200 people in one day before getting the ax herself.
"Seeing Roni...Roni is so awesome," says Garcia Gibson. "She's a very likable, competent woman. You think, if it could happen to her... We're all just inches away."
Not Working is full of people with hard-luck stories, but Gibson met some hopeful people, too. One of these was Nancy Lee, a construction project manager in Indianapolis who was laid off from her job around the same time her marriage was falling apart. In the process of the divorce, she became estranged from her son. She was devastated, spent a month in bed.
Then, says Gibson, "she gathered herself. She realized she had to plug herself into a hole she wasn't plugged into before." She took stock of her expenses and cut out everything that wasn't absolutely essential. She decided to take up jewelry making, because it made her happy. Now she has a small studio. "She's making ends meet and she's happy," Gibson says. "There are a few people like that, who managed a reinvention of the self."
And when Lee heard her estranged son had lost his own job, she called him up, because she understood.
"She had that impetus to reach out to her son, once she knew that he'd endured the same experience she'd endured," says Gibson. "The power of two humans to connect was our greatest hope for this project."
Postscript: Colin Robinson, the editor who helped Gibson conceive the project, found another job, too. In 2010, he co-founded OR Books, a small publisher that prints only on-demand and sells books directly to customers instead of going through retailers. It is publishing the British edition of Not Working.