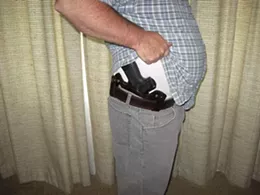 This guy can conceal his heater legally in MO - but only if he's a citizen
Quiz for conservative extremists: Which do you hate more, foreigners or gun-control?
Well here's a court case that might explode your brain.
On Tuesday -- with gun sales
surging
in the wake of the Aurora, Colorado shootings --
Edward F. Plastino
filed a lawsuit in the federal courthouse downtown.
He lives in St. Charles and wants to be able to carry a concealed gun, but he can't -- not because he's mentally ill, or because he's a felon (neither is true). Rather, he's
excluded from getting the permit under Missouri law
because he's a Canadian Native American and only a legal resident, not a U.S. citizen. He considers this prohibition unconstitutional, and so does the Washington-state-based
Second Amendment Foundation
, which joins him as a plaintiff.
"Plaintiffs only seek to be treated the same as law-abiding citizens," the lawsuit says.
Plastino is actually citizen of Canada with more than 50 percent Chippewa blood. His
heritage gives him the right
to legally reside in our state, which he has done since 2006.
But he can't get a permit to pack heat in secret, so he's asking the district court to declare the state law an unconstitutional breach of his right to equal protection under the Fourteenth Amendment.
A call to Plastino's attorney was not immediately returned.
In any event, it's unclear how far Plastino
et al
will get in their quest.
Since 2007, the U.S. Supreme Court has issued a pair of rulings (
Heller
and
McDonald
) confirming a person's right to keep gun at home for self-defense. These decisions lifted the blanket gun bans that had covered big cities such as Washington D.C. and Chicago.
Emboldened, Second Amendment activists flooded federal, state and local courts with lawsuits challenging other restrictions, such as bans on assault weapon bans and high-round ammunition magazines.
But that offensive has largely failed, according to the
Law Center to Prevent Gun Violence
, a non-profit based in San Francisco that is tracking the situation. Despite more than 500 constitutional challenges in federal and state courts since
Heller
, they
claim
, most gun-control laws and restrictions have survived intact.
It was the uber-conservative Justice
Antonin Scalia
himself who seemed to leave the door ajar for this when he
wrote
for the majority in
Heller
:
Like most rights, the Second Amendment right is not unlimited. It is not a right to keep and carry any weapon whatsoever in any manner whatsoever and for whatever purpose: For example, concealed weapons prohibitions have been upheld under the Amendment or state analogues. The Court's opinion should not be taken to cast doubt on longstanding prohibitions on the possession of firearms by felons and the mentally ill, or laws forbidding the carrying of firearms in sensitive places such as schools and government buildings, or laws imposing conditions and qualifications on the commercial sale of arms.

Keeping guns out of the hands of insane people and convicted felons? Sure. But what about lawfully-admitted aliens? What's the rationale there? And who is included in that category? Mexican workers with green cards or work visas? Would the gun-rights crowd be cool with that?
We shall see. Read the complaint below.
Plastino v. Koster