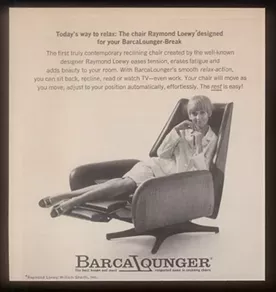 Somehow I'm a little doubtful many of the hypothetical Barcaloungers in players' living rooms are as stylish as this one.
It may be that at the end of the season we will look back on the series sweep just completed by the
Cardinals
as a singularly important moment.
I say singularly, but that may not be the absolute most correct word. I think we could very well see this series as an extraordinarily important moment for this team in several different ways, which might defeat the purpose of singularly. Or maybe not. Maybe the fact this one series could mean so much, and so many different things, later on, is exactly the reason why it does merit the word singularly.
Or, maybe it won't look important at all when the leaves change colors and the Cardinals are on the outside looking in, watching the postseason from their Barcaloungers. (Are Barcaloungers still a thing? I feel like that's the sort of reference that really makes more sense if we're living in an alternate dimension where it's still kind of the early 60s. If that is, in fact, the case, feel free to substitute in some other reference that makes more sense here, in terms of an up to date, modern thing which might cradle the buttocks of baseball players who played for second-division teams while they watch the playoffs on television.)
This particular series sweep, brilliant as it was, may very well just look like another high point for this frustrating, occasionally wonderful team which has already had so many high points this year. (Interspersed with all those maddening losses, of course.) Only time will tell, I suppose.
The
Chicago Cubs
are a really, really bad team. I mean really bad. Almost inexplicably bad, in fact, when you consider they have not one, but two top trade targets, in terms of pitchers, sitting right there in their rotation in the persons of
Matt Garza
and
Ryan Dempster
, respectively. Obviously two quality pitchers are not enough to make a team good -- or even decent -- on their own; see the results for the
Philadelphia Phillies
so far this season if you want more details. But still, when you've got a pair of players all the other teams are looking at as guys they're hoping can help them out making playoff runs, you would expect a slightly less dreadful squad than this year's iteration of the Cubs.
Still, even against a shockingly awful team, the Cardinals put on perhaps their most impressive three-game performance of the season. The previous highwater mark had to be their sweep of the Diamondbacks in Arizona earlier this year; that series was just a gorgeous example of a very good, very talented team putting it all together and stomping the competition beneath the giant, awesome soles of the giant, awesome boots. This, though...this was on an entirely different level. When you beat a team, even a very bad one, by a combined score of 23-1, that's a special kind of ass kicking.
So when this team is in the World Series, defending their eleventh championship title en route to their twelfth, we may very well look back at this series against the Cubs as an enormously important moment in the season. It could be a turning point. This is, after all, a team with too much talent to play .500 ball and flounder around in third place. Hopefully that quality of talent will show through, and this will be the time when it started to really turn around. "You know," we'll all say, "that beatdown of the Cubs back in July was when things really started to look up for this team."

It could also serve as a bright and shining example of just how good this team is capable of being. "Oh, sure," we'll all say, "it's pretty freakin' awesome how the Cards just beat the Texas Rangers in five games to win the World Series for a second year in a row, but I'm not really surprised. Remember that series back in July, when the Cards just curb-stomped the Cubbies like 50 to nothing? That's when I knew this team was special." This statement will receive wise nods in response, with the exception of one guy who will want to know if you've suffered a stroke that destroyed specifically the portion of your brain which controls your ability to make statements that aren't oddly, clumsily expositional in nature.
Then again, we've been down this road before. That Arizona series I mentioned earlier? It came as the highwater mark of this team both in terms of performance and record, near the end of an early season run of excellence that made us all think this NL Central race was likely over before it had even properly begun, that this Cardinal team was just too damned good for the rest of the division, and possibly the rest of the National League as well. And then came May, with its injuries and bullpen implosions and 13-16 record. Then a water-treading June that was, if anything, even more frustrating.
"Oh, sure," we'll all say, "this team was really talented. And they should have been really good. I mean, look at the season Allen Craig had! Not to mention Beltran. But this bullpen...man, they really screwed the pooch down there. How in the hell did Mozeliak think that bunch of losers was going to get the job done? And resigning Berkman after they got that one great year out of him? Seems like an awful lot to pay for 40 games worth of play. These guys suck!"
This past weekend was a glorious one for Cardinal baseball. What it means in the long run is all up to the team now. Where they go from here is what will determine how this particular dismantling of the Cubs is viewed. And what we'll all say about them in October.