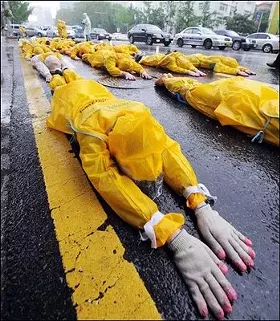 Nope, sorry, I'm not going quite this far in trying to suck up to San Francisco. But hey, they certainly showed me last night.
I wrote not too long ago
about the San Francisco Giants' extraordinary presence at the All-Star Game
, and how it was a perfect example of why the current format for baseball's midsummer classic is badly broken.
Well, the game itself was played last night, and I have this to say: thank god that the San Francisco players involved didn't go and do something to make me look incredibly stupid, like win the game pretty much by themselves. That would have been pretty frustrating, you know, to have a bunch of internet sports fans think I was some kind of moron.
Actually, the fact that the Giants players had huge games isn't really all that relevant one way or the other to my argument at the time; the ridiculous dueling imperatives of fan voting and trumped-up meaning that make the All-Star Game such a farce currently is still the same now as it was then. The fact that the Giants came away with a brilliant showing doesn't change the underlying issue.
All the same, the National League won its third All-Star Game in a row, and now has home field advantage for the World Series. So, thank you, San Francisco.
It was awfully great to see
Tony La Russa
come back and get one last win as a manager in this game. I haven't been the biggest La Russa fan over the years (see my previously published works for details), but I still have great respect for all the man has accomplished. And he's leaving the game on top, on his terms, having won a championship with his final team, and now pulling off an All-Star Game victory too. You can't ask for much better terms on your way out of the sport than what La Russa has managed.
It was also special -- more than special, really -- to see the whole coaching staff back together again. The time since the end of the World Series has been incredibly tumultuous for the Cardinals; their eleventh title came with an inordinate amount of change attached. To see
Dave Duncan
making the walk to the pitcher's mound again, and the various faces of all the coaches who have moved on since Tony announced his retirement, was kind of a remarkable thing. The All-Star Game is never about one team, by any means; it's always about the pageantry and honor of participating, and the fans' side of enjoying the best their sport has to offer. But as a Cardinal fan, last night was, to me, at least a little bit about this team specifically. And it was good.
As for the Cardinals on the field, they represented the franchise as well as any team in the National League not named the Giants. Rafael Furcal and Matt Holliday both had hits. Carlos Beltran drew a walk in the first. All three players crossed the plate. David Freese played first base, a La Russian happening if ever there was one. Lance Lynn didn't get to pitch, but that's okay. He was called on an extra time back in October; not getting the call at all this time had a nice feeling of cosmic symmetry.
It was a good night, really. I don't much care for the All-Star Game as a rule, just because I dislike what baseball has done with it. But last night, well, a legend came back for one last game, got the band back together, and the players wearing my team's uniform all did themselves proud. It was all pretty magical, and more than enough to make up for Melky Cabrera making me look like an asshole.
And in case I didn't say it properly the first time around -- I'm pretty sure I did, but checking the archives seems a bit beyond me at the moment to make certain -- I'll say it now: goodbye, Tony. Thanks for the memories. It was one hell of a ride.