Tea Party darling and
GOP candidate for attorney general
Ed Martin
just released this new TV spot, which begins: "Almost 30 states filed lawsuits to stop Obamacare. Not Missouri. Our attorney general sat it out." That's technically true, but slightly misleading.
What democratic AG
Chris Koster
did do was file a
brief
last year on Missouri's behalf in
one of the three feeder cases
that became the single landmark Supreme Court case upholding the Affordable Care Act.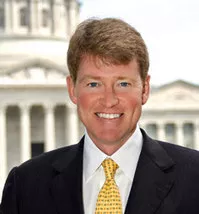 Attorney General Chris Koster
Koster -- a Democrat -- wrote at the time that he felt compelled to file the brief because Missourians had rejected the legitimacy of the individual insurance mandate in a 2010 ballot referendum (which brought federal and state law into conflict).
In his brief, Koster adopted conservatives' main argument against the ACA: That the individual mandate was an unconstitutional broadening of Congress' power to regulate interstate commerce. However, Koster did suggest -- in a lukewarm fashion -- one way the Supreme Court might salvage the law: Refer to the money that an insurance-resister must pay as a "tax" instead of a "penalty."
Which, as you know, is precisely the position that Chief Justice
John Roberts
took in his tie-breaking decision to
uphold
the ACA.
None of this will matter if Koster crushes it in the upcoming AG election, but we're left to wonder: Is Ed Martin echoing the view of most Missourians? What do they think about the ACA, now that the Supreme Court has signed off on it?
Daily
RFT
couldn't find any recent polls on the subject that break out a Missouri component, but a
Washington Post - ABC news poll
suggested the Americans may be accepting the law because they're now evenly divided over it, in contrast to the widespread disapproval that reigned before the high court's hand-down.
Of the folks who still don't like the ACA, only about two thirds want to repeal all or parts of it, as Ed Martin so vehemently wants to do.
If Missouri truly is a bellwether state, then Missourians may be ready to move on from this debate -- leaving Ed Martin's appeal to fall on unreceptive ears.