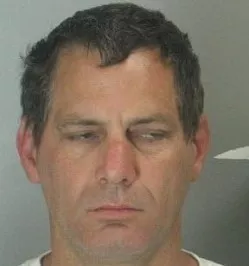 Daniel Fuller's home movies attracted police attention.
Daniel Fuller, 46, of Pevely, Missouri, allegedly purchased a video recording device from a retailer headquartered in Nebraska, and then later returned it. Anybody who's ever worked in retail will tell you that when a recording device leaves the store and is then brought back, employees quickly check the card/tape/whatever to see what, if anything, the temporary owner did with the machine.
In this case, those employees found something alarming. Alarming enough that they notified the police after seeing the footage.
Nebraska law enforcement then looked up the guy who bought it and allegedly found it to be Daniel Fuller, of Pevely. They notified the Jefferson County Sheriff's Office, which yesterday executed a search warrant at Fuller's home, with an assist from the Internet Crimes Against Children Task Force. Several computers were seized, and Fuller was taken into custody.
Today, the Jefferson County Prosecuting Attorney's Office filed a lengthy slate of charges against Fuller, including 1 count of sexual exploitation of a minor; 1 count of promoting child pornography; 8 counts of statutory sodomy; 2 counts of statutory rape; and 5 counts of incest.
Fuller is being held on a $250,000 cash-only bond.