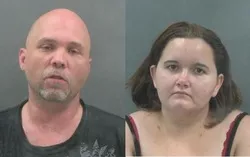 Shawn Ingram and Dana Kintz
Dana Kintz, the woman charged with
committing unlawful sex acts on her dog
back in May, has pleaded guilty to the charge. Kintz, 28, was sentenced to 120 days in prison, with the 68 days she's spent in jail awaiting trial count toward her total.
Originally she had claimed to be an unwilling participant, forced to commit the act by her boyfriend, Shawn Ingram, 37. Ingram photographed Kintz wearing a dog collar and mask while she fellated the dog. If you're the optimistic sort, you'll be relieved that they didn't further demean the dog by making him wear an outfit during his ordeal.
Ingram is facing the same charge of unlawful sex with an animal, in addition to charges of child porn possession. Police allegedly found those photos on his cell phone after Kintz called them to the couple's home in the 4000 block of Russell Boulevard alleging that Ingram was physically abusing her.
Ingram has a prior conviction of possessing child porn, so police searched his phone. They found the child porn, and pictures of the couple sexually abusing the dog. Ingram's trial is ongoing.