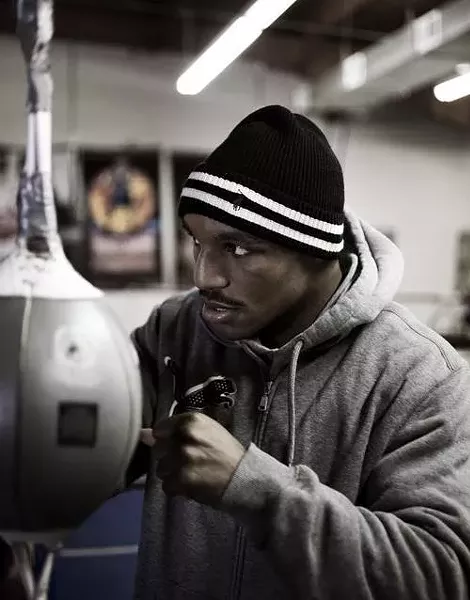 Photo: Jennifer Silverberg
Alexander may also need to exercise his jaw for the fight.
After weeks of verbal sparring, it appears a date and venue is now set for a title bout between St. Louisan Devon Alexander and IBF welterweight champion Randall Bailey.
Alexander's trainer, Kevin Cunningham, tells Daily RFT that it's "highly likely" the fight will happen on September 8 at Scottrade Center. Showtime will broadcast the night's activities.
Given the war of words already between these two camps, September 8 in St. Louis is shaping up to be a nasty affair. The potshots began last month when the 37-year-old Bailey (43-7) essentially told a radio interviewer that Alexander (23-1) was too chicken to fight him. When Cunningham denied the allegation, Bailey told the appropriately named website Fight Hype that Cunningham needed to "shut the fuck up and let his fighter talk."
Last week talk Alexander did, saying: "I don't do a lot of rapping, but my hands will make a lot of noise tapping this dude upside his head." The former IBF and WBC light welterweight champion also promised to cut through Bailey like a "hot knife going through butter."
Randall -- who knocked out previous champ Mike Jones with a stunning uppercut last month -- colorfully responded by calling Alexander a "midget" and announcing that the fight would be the first boxing match ever to make The First 48, the TV show that follows real-life homicide investigations. (Bailey, keep in mind, stands 5'9" to Alexander's 5'8".) In the same interview, Bailey referred to Cunningham (a former cop) as "Mr. Freeze Get Your Hands Up."
Cunningham has yet to respond to that barb, but notes that if Bailey wants to go back and forth, "he found the right camp to do so."
Yet even amid the banter, the St. Louis trainer acknowledges that Bailey is a more than formidable foe. "He's the biggest puncher this division has seen since Thomas Hearns," says Cunningham of Bailey. "If he lands his right hand, most people go to sleep. The challenge for Devon will be to disarm him -- take his gun out of his holster."
Cunningham says the September 8 lineup at Scottrade could also include a marquee undercard in the Nigerian-born Ajose Olusegun (30-0) taking on Argentine light welterweight Lucas Matthysse (32-2).
One of Matthysse's two losses came last June in a controversial decision to Alexander at the St. Charles Family Arena. Another Alexander bout in front of a hometown crowd (an August 2010 fight vs. Andriy Kotelnyk at Scottrade Center) also ended in a narrow victory awarded the St. Louisan.
That said, one might think Bailey would be taking a gamble in fighting Alexander in St. Louis. But as Cunningham puts it, the Miami-based Bailey doesn't have much choice.
"I've seen him express concerns on the Internet about fighting in St. Louis, but when the networks buy a fight, they like a fighter who can draw a crowd," says Cunningham. "I've said that we'll fight him on Mars if we have to, but he can't dictate where the fight will be when he can't draw flies to shit in his hometown. Promoters take a fight where it will have attraction, and we are thankful for the opportunity to bring another title bout to St. Louis and showcase our city."
Related content: Familiar Ring: What must Devon Alexander "The Great" do to live up to his nickname?