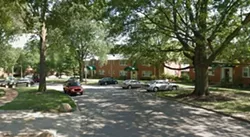 The 3200 block of January Avenue.
The second man killed in what the shooter is
claiming was an attempted robbery Tuesday night
has been identified as James Moore, 20, of the 5100 block of Highland. Moore was found by police in a walkway behind an apartment complex in the 3200 block of January Avenue. He had been shot multiple times and died at a hospital Wednesday morning.
The shooter, who was allegedly defending himself and his girlfriend from a home invasion, has been taken into custody after police questioning. He has not been identified and warrants against him have not been issued by the Circuit Attorney. Several guns and suspected marijuana were found by police in the apartment.