When Alan Lamberg told Jeremy Cropf he was writing a screenplay for a political thriller about a serial killer who was targeting war profiteers, Cropf, then a film student at New York University, was intrigued.
"It was a moral quandary," he says now. "A guy committing awful crimes against victims who may or may not deserve it. Alan was wrestling with his feelings about the Kirkwood shootings [in 2008], the turmoil of the '08 elections and the economic downfall."
Cropf told Lamberg to send him the screenplay when he was done. He was expecting a short film with four or five characters. Instead he got what he calls "a 90-page epic."
Cropf had never directed a full-length feature before, let alone an epic. Nevertheless, he was so impressed by Lamberg's script, he felt compelled to turn it into movie.
And now, three-and-a-half years later, Casualties of the State will have its premiere this Sunday, July 8, at 6:15 p.m. as part of the Whitaker St. Louis Filmmakers Showcase at the Tivoli Theatre.
Back in 2009, when plans for the movie were coming together, Cropf admits that he and Lamberg had no idea what they were getting into. Along with two additional partners, Alex Shirley and V. Elly Smith, they formed a production company, Corner Film Productions, and set about raising the funds to shoot the movie themselves.
Cropf declines to share the film's exact budget, but says that aside from $6,000 raised through an Indiegogo campaign, all the money came from the pockets of the four producers.
"I was working at Starbucks and odd freelance jobs," he says. "Alan was working at Kirkwood City Hall and Alex as a lifeguard at the Center of Clayton. All our income went right back out into the movie."
Most of the filming took place during the summer of 2009, primarily on weekends, primarily in locations in and around St. Louis, though the film was actually set in Washington, DC.
"Alan was very smart about this when he wrote the script," Cropf explains. "He found buildings by the same architects [as the buildings in DC]. The Old Post Office had the same architect as the Eisenhower Executive Office Building. So we got permission from the people who owned the building. It looked great."
courtesy Corner Film Productions
A scene from Casualties of the State. Actor Alex McCormick plays National Security Agency analyst Lucien Archer. The Old Post Office plays the Eisenhower Executive Office Building.
Kirkwood City Hall, where Lamberg works in the historical preservation office, stood in for the FBI headquarters. Cropf and his crew also filmed at Foundation Grounds and the Stone Spiral Coffeehouse in Maplewood, Spencer's Grill in Kirkwood and the Goody Goody Diner in the Wells-Goodfellow neighborhood in north city. But Cropf was most impressed by the St. Louis Medical Examiner's office.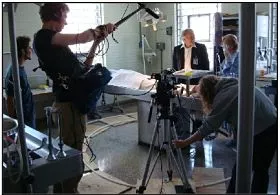 courtesy Corner Film Productions
Cropf (far left), cast and crew filming at the St. Louis medical examiner's office.
"That scene was awesome!" he says. "It's one of the only morgues left in the whole country that looks like how you picture it. A lot of the others have been modernized."
The cast and crew numbered between 25 and 30, depending on who was available on any given weekend. "They all did it for free," Cropf marvels. "They had full-time jobs during the week, and then they gave up their entire weekend to film. I didn't expect that at all."
Cropf expected to complete the editing during the 2009-2010 school year, but life intervened in the form of an internship with the BBC in London during the fall semester, during which he had no spare time to work on Casualties of the State.
"I wanted to finish," he says. "But we needed to shoot additional scenes in the winter of 2009 and the summer of 2010."
After Cropf graduated at the end of 2010, he returned to St. Louis to finish editing before taking a job in video production at an advertising agency in Portland, Oregon. Even now, he's still tinkering with the movie. Sunday's showing will be more like a test screening.
courtesy Corner Film Productions
The four producers (l-r): Lamberg, Smith, Cropf and Shirley.
"It's still a work in progress," he cautions, "but we're really damned close. We have the visual effects, the score, the sound editing. But we have a little bit of room to make changes based on the audience's reaction."
After he produces a final, final cut, Cropf wants to get the film into wide distribution. He says he's already had offers from a couple of companies in LA who want to put it out via Netflix or Redbox.
"I want to get it out to as many people as I can," he says. "Enough people sacrificed to work on this. I owe it to everybody. There's an incredible talent pool here [in St. Louis], more than anybody gives us credit for. There are so many people doing film -- actors and crew -- and they relish the opportunity. There are so few movies made here, they'll jump on anything interesting."
Casualties of the State - Trailer 4 from Jeremy Cropf on Vimeo.