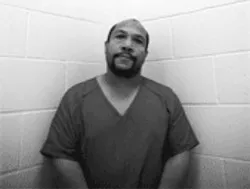 Jennifer Silverberg
Leonardo Drisdel in prison in 2005.
Leonardo Drisdel has been sentenced to life in prison without possibility of parole plus 150 years for murdering his friend Cassandra Kovack, according to a
tweet fired off
by St. Louis Circuit Attorney Jennifer Joyce.
Drisdel, a former DJ for WGNU, was convicted of Kovack's murder this past May. He told police he killed her after the devil told him to do it; he'd been smoking crack prior to hearing the voice.
The
Riverfront Times
feature story "
Dead Reckoning
" reconstructed the fateful night in 2005 when Drisdel committed the shockingly brutal murder of a young woman who considered him a friend.