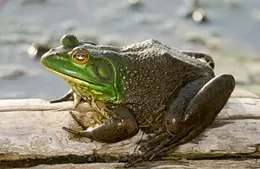 The whole frogging season begins tonight.
Sure, it's so hot today you want to throw up.
But tonight, after sunset, froggin' season
begins
!
Below are some facts about frogging that might make you, well, grab your pole and get to it:
Fact #5
: Frog legs are
delish
, you guys.
They actually taste like fresh-water fish. If you eat fish, but refuse to eat frogs based on their sliminess, you are applying a double standard because fish are slimy too (AND they can't even jump). So, just like your precious little fish friends, looks like you don't a leg to stand on. Hey-o! Eat frog legs.
Fact #4
: You can use flashlights and spotlights to catch these critters.
That's illegal with other animals such as deer.
Jim Low
of the
Missouri Department of Conservation
tells Daily
RFT
that both deer and frogs will freeze when a light shines in their eyes.
"But it's so much harder to take a frog," he says, "because you have to get close with it. You have to be within a broomhandle or arm's length. Using a light is really still fair chase with a frog, whereas it isn't with a deer."
Low adds that frogging season is 24 hours a day, and at night, without the aid of a light, you'd never find a frog.
Fact #3
: You may already have a permit.
If you've got a fishing permit, then you can catch frogs via hand net, gig, trotline, throw line, limb line, bank line, jug line, snagging, snaring, grabbing or pole and line. (Grabbing is really tough if you're drunk on, say, corn whiskey; Daily
RFT
does not condone drinking-and-frogging, but we do condone corn whiskey).
If you've got a hunting permit, you can catch frogs via .22-caliber firearm, pellet gun,
atlatl
, by hand or hand net and with a longbow or crossbow. Yeah.
You can kill frogs with an atlatl.
Fact #2
: Missouri has two kinds of frogs you can harvest.
The green frog and the bull frog. Bull frogs are bigger and sound like a fat, gross guy humping something:
Fact #1
: The season is long!
It lasts until Halloween. During season, your daily limit is eight. If you have your limit just before midnight, wait until 12:01 and you can catch another limit.