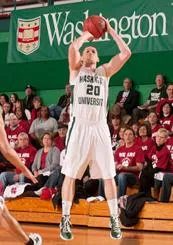 Richter launches a shot for the Bears.
Dylan Richter has a lot to work on over the next couple weeks. There's the dribbling while sliding on his knees. There's the throwing buckets of confetti on referees and fans and the hiding of the basketball in his shirt. And there's the spinning of the ball on his fingertips. You got to master
that
if you want to play for the Harlem Globetrotters.
"I definitely need to work on my tricks," confesses the recent Washington University grad, who this week was
drafted by the famous basketball franchise
. "Our system at Wash. U. wasn't that flashy."
Still, Richter managed to get the attention of the Globetrotters for his basketball skills. This past year, in his senior season at Wash. U., Richter led the University Athletic Association in three pointers (75) and was named the conference's Player of the Year. During his four years at Wash U. Richter scored more than 1,000 points for the Bears and helped the team win the Division III championship his freshman year.
It didn't hurt, either, that Richter spent the past year interning for the Globetrotters as a marketing and social media specialist. (He did the same for the
Riverfront Times
in 2010.)
"I got to know the organization pretty well this year, but never did I think I would get a chance to play for the them," says the 22 year old, who was at his family's home outside Chicago on Tuesday when he learned he'd been named one of six Globetrotter recruits this year. "It was a complete surprise."
But it's not a done deal yet. Richter still has to make the team. Tryouts are later this summer.
Richter tells Daily
RFT
that he never had any delusions about playing in the NBA (whose draft is this week) but early in his college career had thought of perhaps playing professional basketball overseas after graduating Wash. U. More recently, he says, he just hoped to use his basketball knowledge and his newly acquired marketing and psychology degrees to stay connected to sports.
And while the Harlem Globetrotters may not qualify as true sport (it bills itself as "family entertainment"), Richter says there's nothing he'd enjoy more than making the team. (If he does so, he'd be one of just a few white players ever to make the historically African-American franchise, joining the 7'8" Tiny Sturgess of England and fellow Illinoisan
Jacob "Hops" Tucker
.)
"The Globetrotters mission statement is to put a smile on the face of their fans," he says. "You look into the crowd and see kids laughing and their parents laughing, and that is an incredibly rewarding feeling."