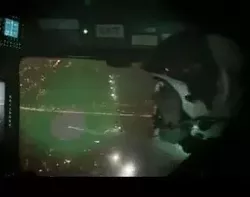 What a laser pointer looks like from the cockpit of a helicopter.
Calling all idiots: Do NOT point laser pointers at aircraft flying overhead. And should the impulse prove unstoppable, maybe think harder before pointing it at a police helicopter.
Michael Brandon Smith might find that out the hard way. According to an unsealed indictment, Smith was at a home in the 'burbs when he saw a Metro St. Louis Air Support Police helicopter flying overhead.
Once he started shining his laser pointer up into the cockpit, the cops saw him too.
See, the thing about laser pointers is, it literally draws a straight line back to the asshole doing it. Pilots can switch to an infrared camera and zoom in to see, in great detail, exactly where the laser is coming from. Presumably the St. Louis helicopter did something similar and radioed local O'Fallon police, who were knocking on Smith's door by about 11 p.m.
See that little white dot to the left of the house? Gotcha.
Even though he was arrested that night -- back on May 18 -- he got pinched again by federal officials early this morning and charged with a felony.
Call it bad luck, but three days prior to Smith's alleged lasering, the Federal Aviation Administration announced it would be going after laser pointing perps, citing an uptick in incidents from 2010 to 2011. The number of reported incidents rose from 2,836 to 3,592 (Seriously? Who owns a laser pointer anymore?).
"Shining a laser at an airplane is not a laughing matter. It's dangerous for both pilots and passengers, and we will not tolerate it," U.S. Transportation Secretary Ray LaHood said in a statement at the time. "We will pursue the toughest penalties against anyone caught putting the safety of the flying public at risk."
President Obama also made the lasering of an aircraft a federal crime in February of this year.
If Smith is found guilty, he could be facing five years in prison and fines up to $250,000 for, again, POINTING A LASER POINTER AT SOMEONE, a joke both established in and found unfunny since 1998.