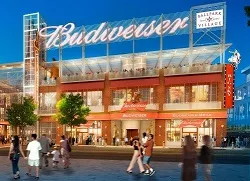 Courtesy St. Louis Cardinals
Artist's conception of the new Anheuser-Busch restaurant at Ballpark Village.
The St. Louis Cardinals and Cordish Companies have announced that they have a new tenant for the first phase of Ballpark Village: Anheuser-Busch has signed on the dotted line to be one of the anchors of the development.
It's been a long time coming
, but it's starting to feel like this thing could actually happen. Couldn't it?
A-B intends to open a restaurant featuring "authentic German-inspired cuisine," which hopefully means lots of pig 'n' potato is on the menu. Of course the beer menu is mentioned in the press release, with a promised slate of more than 100 national and international beers on tap. There's also talk of an outdoor beer garden, and a rooftop deck that will have seats offering sight lines into the stadium.
I know what you're thinking. Hell, I'm thinking it. Ballpark Village promises have been made before, and it never happens. But in the first half of 2012 has now seen three big tenants commit to the property, just as
the Cardinals and Cordish announced would happen barely a month ago
: the Cardinals with their Cardinals Nation hall of fame/restaurant concept, the St. Louis Live! Entertainment Plaza (a Cordish concept) and now Anheuser-Busch. Three's a charm
and
the magic number, so maybe this project is finally approaching fruition.
This is the artist's conception of what the front of Ballpark Village with two of its anchors could look like.
Courtesy St. Louis Cardinals