Jon Gitchoff
Caution: Imbecile crossing.
Allow me to pull my pants up to my nipples before I get started.
Ahh. That's better. Now where was I? Oh, yeah. These -- I don't know what you call them -- fun runs? Themed 5Ks? Costumed, sweat-fests? They are what's
truly
wrong with America. (Yes,
worse even than Taylor Swift
.)
What is it about today's twentysomethings? You all can't exercise without dressing up like a bunch of assholes and making a scene?! Consider the two (two!)
competing zombie-themed 5Ks
scheduled for St. Louis this year in which participants have the choice of pretending to be either the living dead or the hunted. Of course, everyone is encouraged to arrive in costume for the "race."
WTF? I remember when races lured non-runners to compete as a way of raising awareness and funds for something important, say curing cancer. But, no, today's "Me" generation does it solely for its own benefit. And why? Because they need zany pictures of themselves and their friends to post on Facebook!
Take, for example, the
Tap 'N' Run 4K
scheduled for Soulard next month. The event began popping up as a sponsored ad all over Facebook this week. Click on its link, and the first thing you see is a bunch of hipster doofuses in costumes and running shoes and a pop-up message that reads: "Hook Us Up With a Like!"
No. I will not, especially when Tap 'N' Run refers to our fair city as Seynt-Loo-Is and you quickly realize that as quirky as the race strives to be -- with rewards for short shorts and best mustaches (real or fake) -- there's nothing original at all about the Soulard race. The race's parent company, Jam Active, has plans to put on carbon-copy events in dozens of cities, including Oh-Muh-Haw, Sin-Suh-Nat-Ee and Aw-Shtun.
I suppose here is where I say that the opinions expressed in this blog post do not reflect the view of
Riverfront Times
as a whole. Lord knows our advertising department would love to run a few Tap 'N' Run ads. (Psst, Jam Active, hook
us
up at 314-754-5966!)
And, frankly, the
RFT
editorial department has benefited from these fun runs, as well. Last October an online
slideshow we shot of the St. Louis "Warrior Dash"
-- in which participants dress up in costumes and run a mud-soaked obstacle course -- got thousands and thousands of page views.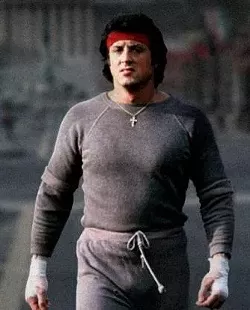 Need a silly costume? Try this one.
From a certain vantage point, I suppose the event looks like a lot of fun. Though I wonder what someone from a developing nation would think if they stumbled across that online slideshow?
Better yet, what would Rocky think? Particularly I'm thinking of Mr. Balboa in
Rocky IV
. You know, the one where Rocky goes off the grid to train in the remote wilderness of Russia? The strategy worked. Rocky defeated the technology-enhanced Soviet fighter, Ivan Drago. Rocky saved America.
And, you, Mr./Ms. Annoying Fun-Run Competitor. You, too, can save America. You can start by just saying "no" to the latest fun run, and exercising for exercise's sake. Your Facebook friends will forgive you. They'll probably "like" it, in fact.