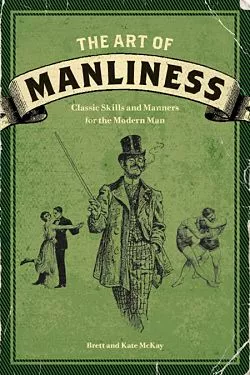 What constitutes manliness? Is it merely the presence of certain genitalia and a Y chromosome and the ability to manufacture large quantities of testosterone? Or is it something more complex and metaphysical like, say, knowing how to knot a necktie or possessing an understanding of certain complexities of life like the infield fly rule? Or is it merely a fondness for salty snacks?
Fortunately, the good folks at Combos have worked out an algorithm for determining civic manliness. (An accomplishment that, admittedly, pales beside figuring out how to insert cheese into the middle of pretzels.) And this year they've decided St. Louis is the seventh manliest city in America. That's three spots more manly than we were last year (and one spot less many than we were two years ago, but let's forget about that).
What makes us so darned manly? Sorry, damned manly.
There are several factors that comprise civic manliness, at least according to Sperling's BestPlaces, which ran the manliness rankings before Combos took over:
Love of sports, measured by the number of professional sports teams (including NASCAR and horse racing), the number of championships said teams have won and the citizens' enthusiasm for them, at least as based on ESPN's fan survey.
Manly lifestyle, which means the number of rodeos, home improvement stores, fishing holes and registered pickup trucks and motorcycles.
Real men don't like to shop. Nonetheless, the number of western/cowboy apparel stores and Harley Davidson dealerships are a factor in determining manliness, as well as sports bars, steakhouses and chicken wing restaurants.
Also manly occupations. As in the occupations represented by the Village People.
Approval by the Board of Manliness, whose membership includes Lou Ferrigno, Sgt. Slaughter, Rollie Fingers, lumberjack champion Mike Sullivan, a retired Navy SEAL and a woman who is the mother of four boys.
And, finally, love of salty snacks, as measured by sales of Combos, which just happens to a sponsor of this manliness survey.
(We were disappointed that crime wasn't a factor. Living in a crime-filled city is certainly a sign of bravery, and real men are brave. Right?)
But what really helped us was being landlocked. Since we don't have much ready access to fresh fish, we have a dearth of good sushi places. Sushi restaurants, as well as cupcake shops and home decor stores, are considered "Manly Kryptonite" and lower a city's overall manliness score. (For the record, Oklahoma City is the manliest city in America. San Diego is the least manly.)
Not that we're complaining. It's really great to live in a manly city! Mayor Slay was unavailable for comment, so we decided instead to consult Aaron Perlut, chairman of the American Mustache Institute, this manly city's most manly institution.
Unfortunately, the AMI had compiled its own list of America's most mustache-friendly cities, and St. Louis had failed to crack the top ten. Or even the top twenty. Perlut was also apparently unaware of the new Combos ranking. But he was willing to take some of the credit.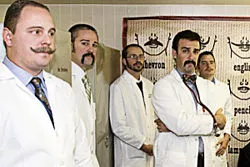 Jennifer Silverberg
The gentlemen of the American Mustache Institute.
"The American Mustache Institute undoubtedly played a significant role in St. Louis's role in the manliest cities tabulation," he said confidently. But he believes St. Louis can do better and offered some advice to improve the city's overall manliness.
"We need more CEO's in town with mustaches, like Ward Klein of Energizer," he said. "If we have more of them, our rankings will grow much higher. More restaurants need to offer more bacon-based items. We need a greater acceptance of roller derby. Yes, it's a women's sport, but it adds to the manliness of the city. Male fans of roller derby are very manly. We need more Johnny's and DB's in the city.
"Actually, though," he continues, "I'm surprised St. Louis ranked so high. I would have chosen Cleveland or Pittsburgh, one of those old-line Rust Belt union towns. Real mean have a strong commitment to union workers."