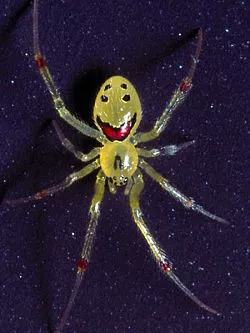 This is a real spider. It's called a Smiling Spider or Spider Cat. Unfortunately, it was not the one spotted in Albion yesterday, because it only lives in the forests of Hawaii.
There was poetry in the Post-Dispatch today, courtesy of an Associated Press report from Albion, Illinois, with the Onion-worthy headline, "Illinois man wakes to find spider in his bed, flees the house naked."
Here is the opening paragraph (which we newspaper folk call "the lede"):
A southern Illinois man awakened to find a spider in his bed, and it's through a glass door naked he fled.
Who cares if the meter's a little irregular? It rhymes!
The article goes on to relate how the unfortunate and arachnophobic young man was in such a hurry to escape the house, he ran through a glass door and cut himself, which led several of his neighbors to mistake him for a bloody streaker and call the police.
(A question: Are you, technically, still a streaker if you end up running around outside naked, even if it's because you were scared by a spider and not because you're an exhibitionist or a thrill-seeker or on the losing end of a bet?)
The story ends happily, with the man back at home with shorts on.
You can tell this story was the work of a diligent reporter. There's an interview with the sheriff and the reporter had even taken the trouble to ask what kind of spider scared this poor young man so. (No one knew, but he or she still gets points for trying to find out.)
In these dark days of journalism, when newspaper layoffs are starting to resemble massacres, it's a relief that there is still room for hard-hitting coverage like this. The only thing that would have made the story better is a few more rhymes.