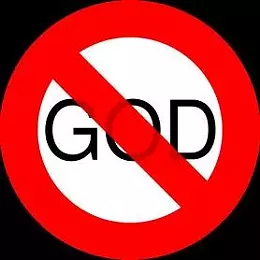 Can a secular group thrive in Missouri?
The
Secular Coalition of America
-- an umbrella group comprised of non-theists, believers in the separation of church and state, freethinkers, and other people headed straight to
Hell
-- is
trying to open a chapter in Missouri
.
They're based in D.C., but they're now launching the second of five phases to get a toehold in the states. "Phase 2" includes Missouri, plus Arkansas, California, Florida, Georgia, Montana, Rhode Island, South Carolina and Texas.
Why the expansion? Quoth executive director,
Edwina Rogers
: "Some of the most egregious violations of church state separation are being promoted and passed at the state level, and we absolutely must act to stop it."
Rogers cites as examples Missouri's recent
"Don't Say Gay" bill
, the
bill
encouraging state residents to participate in the National Day of Prayer, and the
bill
that allows employers who oppose contraception and abortion to refuse to provide coverage for employees who want those things.
But can a secular group thrive in Missouri?
It's possible. According to a 2007 Pew
survey
, 77 percent of Missourians profess absolute certainty about God's existence. That's high, and above the national average. But it leaves 23 percent left over. So the Coalition boasts that almost a quarter of Missourians
do not
express an absolute belief in God.
True, yet some folks within that group are actually believers who are only "fairly certain" that God exists. (Check out page 45 of the methodology
PDF
to see how the answers were classified.)
The Coalition also points out that 41 percent of Missourians disagree that religion is very important in their lives. Again, it's a question of degree: Some said that religion had little or no importance, but others in this chunk said religion was "somewhat important." How staunchly will those folks have the Coalition's back?
The organization will soon find out. Interested parties are encouraged to join the conference call on Thursday, June 28, 2012 at 1 pm. Just call (530) 881-1400, Participant Access Code: 978895.