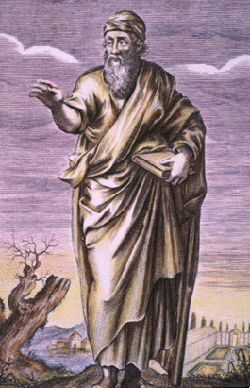 Pythagoras, greek philospher, mathematician, and all around nice guy, moments before inventing a system for making baseball more complicated.
You know, it hasn't been the easiest season so far for the
Cardinals
. Don't get me wrong; it hasn't been a really miserable season of nothing but struggles, by any means. But when you looked at this team on paper before the season started, it looked like a team that should have comfortably taken the
Central Division
. And when the Cards jumped out to a 14-8 record in the month of April, it looked as if they might be even better than what we saw on paper.
Unfortunately, things haven't been nearly so easy since then. May brought a brutal schedule of 29 games in 31 days and struggles, to the tune of a 13-16 record. June hasn't been much better so far, as the Redbirds have started off 4-6 for the month, losing series to the Mets and Indians, while managing to take two of three games from the Astros.
As of today, the Cardinals sit in third position in the NL Central, holders of a 31-30 record that trails the Cincinnati Reds and Pittsburgh Pirates by 2 games. They certainly don't look much like the elite-level team we all expected to see, do they?
Well, you know, except for the fact that they do. Sort of.
I'm sure plenty of you out there are familiar with the concept of
Pythagorean record.
(I've used it here a bunch of times before.) For those of you who aren't, here it is in a nutshell: Pythagorean record is essentially the record a team
should
have, given a normal distribution of runs.
Pythagorean record is intimately connected to run differential, which is exactly what it sounds like: the number of runs by which a team has outscored their opponents. (Or been outscored by, as the case may be.) The higher a team's run differential, the better their Pythagorean record. Not too very complicated, right?
Here's the thing: run differential (and, hence, Pythagorean record), tend to correlate more closely with a team's future record than what their actual record does. In other words, a team's winning percentage right now doesn't tell you a whole lot about what their winning percentage is going to be going forward. On the other hand, run differential does tell you plenty about how good that team is likely to be. It's a really fascinating concept, that a team's run differential says more about their true talent level than their actual won/loss record does; in the long run the bounces, both good and bad, tend to level out and teams play roughly to that talent level.
Now, with that in mind, you may or may not be excited -- and gratified -- to know that the Cardinals' Pythagorean record this morning is 36-25. In other words, rather than being a single game above .500 and mired in the middle of the division, the Cardinals should actually be 11 games over and comfortably in the division lead.
The Cards' run differential currently stands at +55; that is the second-best mark in baseball. The Texas Rangers are the top club, with a +73; the Dodgers sit in third place behind the Cardinals with a +50. The Yankees are at +43, and the Washington Nationals are +36. That's your top five clubs in all of baseball, in terms of run differential, anyway.
Just for comparison's sake, the Cincinnati Reds have a +16 run differential and 31-28 Pythagorean record. Not bad, but not even close to the Cardinals. The Pirates, on the other hand, are actually at a minus seventeen; they should be a losing club.
Now, there are two ways to look at these numbers. One is to say, "Hey, the Cardinals have really been good overall; the record doesn't accurately reflect the quality of the team." The other way is to say, "Sure, you can throw your made-up numbers at me all day long, but this team just isn't that good. The run differential doesn't accurately reflect the quality of the team."
To be fair, both sides probably have some merit; personally, I tend to think the Cardinals really are the better team, and that quality will win out in the end. Then again, while run differentials usually predict a team's future pretty well, they don't always. So, unfortunately, the best we can conclude from these numbers is, yes, the Cardinals absolutely should be better than their won/loss record says they are. But so far, they haven't been, and there's really no guarantee they're going to be in the future.
The more informative question to ask, I think, wouldn't be whether or not the Cardinals will continue to underperform. The better question is why have the Cards underperformed to this juncture? And the answer to that question speaks volumes about what needs to happen for this team to be serious contenders the rest of the season.
There are lots of reasons teams either over or underperform their Pythagorean records, but the most common reason -- and, surprise surprise, the one which seems to be at work here -- has to do with the quality of a team's bullpen. And in the case of the 2012 Cardinals, you might as well stop drilling now, because I'm pretty sure you just hit oil.
The Cards' record in one-run games is an abysmal 5-10 on the season; they're 1-3 in extra inning contests. On the other hand, the Cardinals' record in so-called blowout games (meaning the margin of victory is five runs or more), is robust 13-7. That right there should tell you most of what you need to know about why this team is in third place right now, treading water just above the break-even line. You can say this team is only capable of winning one way, of blowing out the opposition when the offense goes crazy. I happen to disagree, but I also couldn't blame someone for thinking (or saying) that.
The biggest culprit, not to put too fine a point on it, has been the relief corps. Relievers tend to have a disproportionate impact on the outcome of close games, just due to the nature of how close games are managed, and it's been the relievers that have largely let Mike Matheny down so far this season.
Jason Motte has been up and down. Marc Rzepczynski started off strong enough, but has been awful of late. Fernando Salas has just been awful period. That's pretty much the 2011 Cardinals' three strongest relievers (minus Lance Lynn, who of course has been a bright spot in the rotation this year), all getting knocked around in the early going. Mitchell Boggs has been solid, and Eduardo Sanchez has looked close to untouchable at times, but that triumvirate of Salas/Scrabble/Applesauce had everything to do with the championship the Redbirds brought home last October. If they had pitched then the way they're pitching now, I can guarantee the Commissioner's Trophy would not have come home with our boys in red.
For now, I'm going to keep on believing the Cardinals are a better team than we've seen from them of late. I'm going to believe that run differential tells us more about who they are than that .333 winning percentage in the closest games. I'm going to believe they really are who we thought they were coming in, before the bullpen hijinks started in, threatening to derail what should have been a magnificent season.
But, I really couldn't blame you at this point if you disagreed. I really, really couldn't. By run differential, which correlates better with how good any given team actually is than a won/loss record, the Cardinals should be the second best team in baseball and squarely in the driver's seat. But imaginary wins -- even those supported by very sound math -- don't count for much in the year-end standings.
Frankly, I don't really know what to think of this team by this point. It's all very confusing.