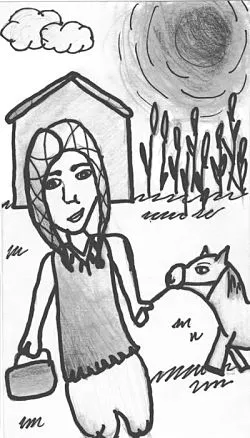 An illustration from the Grannie Annie project by Kyleen Brumit.
Here's your weekly St. Louis bestseller list for the week ending June 3, as compiled by the St. Louis Independent Booksellers Alliance and based on sales at Left Bank Books, Main Street Books, Pudd'nhead Books, Subterranean Books and Sue's News.
It's finally happened. The Fifty Shades juggernaut has reached the top of the local bestseller list. But it faces stiff competition in the form of Amanda Doyle's indispensable Finally, A Locally Produced Guidebook to St. Louis by and for St. Louisans, Neighborhood by Neighborhood, back on the list after dominating for many weeks earlier this year.
New to the list this week is another St. Louis-centric title, St. Louis Parks by local historians NiNi Harris and Esley Hamilton. And, making its debut over on the kids' list is volume seven of The Grannie Annie Family Story Celebration, published by a local nonprofit that invites schoolchildren across the country to collect and write down and illustrate their family stories
Adult Bestsellers:
1. Fifty Shades of Grey by E.L. James 2. Fifty Shades Freed by E.L. James 3. A Game of Thrones (A Song of Ice and Fire, Book 1) by George R.R. Martin 4. Fifty Shades Darker by E.L. James 5. Finally, A Locally Produced Guidebook to St. Louis by and for St. Louisans, Neighborhood by Neighborhood by Amanda Doyle with Kerri Bonasch 6. Lots of Candles, Plenty of Cake by Anna Quindlen 7. St. Louis Parks by NiNi Harris and Esley Hamilton 8. Canada by Richard Ford 9. Noir at the Bar edited by Jedidiah Ayres and Scott Phillips 10. Over Time: My Life as a Sportswriter by Frank Deford
Children's/YA Bestsellers:
1. Mockingjay by Suzanne Collins 2. The Hunger Games by Suzanne Collins 3. The Very Hungry Caterpillar by Eric Carle 4. Catching Fire by Suzanne Collins 5. I Want My Hat Back by Jon Klassen 6. Grannie Annie Volume 7: Selections from The Grannie Annie Family Story Celebration edited by Connie McIntyre 7. Pinkalicious: Soccer Star by Victoria Kann 8. Insurgent by Veronica Roth 9. The First Kill (The Slayer Chronicles) by Heather Brewer 10. The Outsiders by S.E. Hinton