Zombie Survival Dash
Zombies hate fast food.
Getting motivated to exercise is tough. Luckily, there are some skeletal, nonsense-spewing personal trainers who want to get in your head. Not Jillian Michaels. Zombies!
The concept is simple. Instead of clawing through a 5K obstacle course for a cause or a t-shirt, athletes are motivated by the abject terror of being chased by the undead.
The zombie apocalypse is coming not once, but twice to St. Louis, starting with Run for Your Lives on August 18th, and then the Zombie Survival Dash on October 27th.
We wouldn't want anyone wracking their delicious brain deciding which one to do, so we've compiled a handy guide.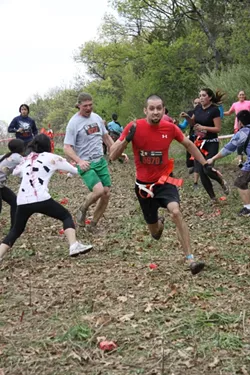 Run for Your Lives Facebook
RFYL Massachusetts 2012
Both events share a basic premise -- runners will crawl through mud and vault over obstructions on a 5K obstacle course through the woods, all while being pursued by a zombie hoard. Participants wears flags that zombies try to tear off; lose all three flags and become the running dead. Dead runners can still finish, but won't qualify for prizes.
Run for Your Lives founder Derrick Smith says as far as he knows, he and his partners invented the concept in 2010 for their first event in Maryland. The race was so successful they've expanded to 13 cities, including St. Louis. Zombie Survival Dash founder Chad Weber says he came up with the idea after creating an elaborate zombie-themed haunted house at his St. Louis home last Halloween.
"I wish this could be my job," he says. "So we found a way to turn it into an event."
Both races offer the opportunity to be runners or zombies. Zombies are treated to a professional makeover on the day of the race, and given a role, be it slow walker, running zombie, or corpse-in-hiding. Both events also feature an after-party where the living and the dead put aside their differences, and rock out with live bands and brews.
Here are the differences:
Run for Your Lives Date: August 18 Cost for runners: $77 until June 27, $87 thereafter Cost for zombies: SOLD OUT, but runners get priority to be zombies in 2013 Location: 13712 West Highway M, Wright City Ratio of zombies to humans: UNKNOWN. Smith says he's expecting between 6,000 and 7,000 runners but is staying mum on the zombie count. "We don't want runners to know what they're up against." Brains: Since Smith and Co. are in their second year running these races, he says his bands will be better, his obstacles are tougher, and his zombies are just . . . zombier. "We have some top-notch zombies," he promises. "We have a very loyal zombie following." Drains: Average temperature in St. Louis in August is 88 degrees. Average temperature in October, 69 degrees.
Zombie Survival Dash Date: October 27 Cost for runners: $75 Cost for zombies: FREE. Location: Rabbit Lane, Robertsville Ratio of zombies to humans: 1 to 2 Brains: Prefer a locally-sourced zombie apocalypse? Weber is a hometown boy. Plus, the after-party will feature zombie-themed games of skill. Local military personnel who volunteered to be zombies have hooked Weber up with real grenade-throwing training gear and laser gun target practice, so participants can shoot living, lurching zombie targets. "We get a lot of the local police force, a lot of the military. It just seems like a huge amount of them are interested," he says. There will also be real body bags loaded down with 150 to 200 pounds for a body-drag race. Drains: According to the Zombie Walk Facebook page, the 2012 walk will occur on the EXACT SAME DAY. That could really cleave the undead-enthusiast community in two.
Between the two races, however, there's really no stopping a true zombie-jock from doing both. Think of it as practical training.
"As anybody knows," says Smith, "a zombie apocalypse could happen at any time."