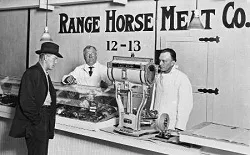 Why, yes! I'll Have Another.
Sue Wallis, the CEO of Unified Equine, resurfaced in the media recently to hint that her plans for a horse slaughter plant in Missouri continue apace. Wallis claims that the company has designs on a
shuttered cattle processing plant in "western Missouri,"
with the exact location being kept a secret. The secrecy is necessary at least in part because of the public outcry over Unified Equine's initial proposed location in Mountain Grove, Missouri -- the
local populace strongly opposed the plan
.
Let's say Unified Equine follows through with this new location, and a plant opens and processes horse meat for human consumption. What exactly would be in that meat?
According to Valerie Pringle, an equine specialist with the Humane Society of the United States, a lot of stuff you probably don't want to eat.
"Horses aren't raised to be eaten, not like cattle," Pringle says. For example, the United States and the European Union both have prohibitions against phenylbutazone being used in food producing animals. According to Pringle, phenylbutazone is at the top of the list of drugs given to horses as a matter of course.
"Phenylbutazone is kind of like horse asprin. We keep a big container in the barn. It's used to treat pain or swelling from a bug bite -- horses seem to injure themselves all the time. It's very, very common," Pringle explains before rattling off a list of further commonly dispensed medicines. "They get wormer generally every eight weeks. Fly spray, fungicidal shampoos, hoof treatment, copper tox for their hooves -- that kills bacteria -- all of those drugs are common for regular horses, including show horses. These things are done to keep them healthy. None of them are approved for human consumption."
These are the drugs typical horse owners use, and would be found in almost any horse that ends up in a slaughter plant. Race horses have even weirder stuff in their systems, according to Pringle. "Race horses get cocaine, cobra venom -- and they'll receive a lot of other drugs to mask their pain during their lifetimes."
Because of these chemicals and the risks they present for human consumption, the European Union -- the largest market for horsemeat other than Japan -- passed new food safety regulations for horse meat in 2010. Those standards take effect in July 2013. These new standards require that all horses presented for slaughter at EU-certified plants in countries that export horse meat to the EU have a veterinary record listing all medications they have been given over their lifetimes. That would make horse meat processed in America ineligible for shipment to the EU because we don't require lifetime veterinary records. If the European market was closed, what about the other big horse meat market, Japan?
"What we think will happen -- and we don't really know -- is that we don't have lifetime veterinary records in America, so we can't comply with their regulations. If the EU, who is very fussy about drugs and additives, if they start to ask questions, we think Japan will follow," says Pringle.
If that comes to pass, it would leave very few options for a horse meat processing plant to sell its wares. Unless Americans suddenly developed a taste for horse, which doesn't seem likely -- especially in a culture that's becoming increasingly aware of what goes into its food. For Pringle, there's no question about it.
"I own a horse, Sue Wallis doesn't. I know what's in horse meat."