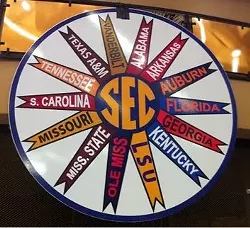 And the SEC Wheel of Rivals lands on ... Arkansas!
The SEC today officially announced the new conference schedules and cross-division rivals, and Mizzou has traded
Kansas for Arkansas
. Both the football and basketball teams will play a home and away game against our neighbor to the south beginning in the 2013 season.
Can the loving hatred that Mizzou and Kansas shared for so many years be easily transferred to the Razorbacks? Will longtime Tigers fans spot a Jayhawk sweatshirt on someone in a crowd and gaze wistfully into the middle distance, remembering a lifetime of mutual bile? It seems almost an impossible task to switch off the years and the memories just because of a new conference affiliation.
Arkansas' football fans have already had a rough off-season, what with the
Bobby Petrino affair
and the
short-term hire of a head coach John L. Smith
. What they need now is compassion and understanding. While Mizzou won't face them until the 2013 season, I'm sure that's what Mizzou fans will offer.
Maybe in song format
. Get working on that, dudes.