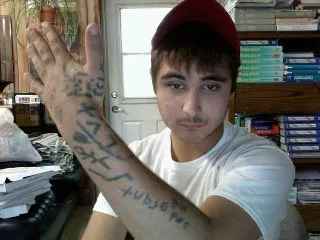 The early frontrunner in Synergi's "Worst Ink" competition.
"It ought to be a law," says Michelle Somers, director of
Synergi MedSpa
in Chesterfield, "that you can't tattoo someone's name on your body unless it's your child."
Why? Because Somer's technicians remove A LOT of names from bodies, most all of them the names of exes.
"We find that once someone put their significant other's name on their body, it pretty much kills the relationship," says Somers.
But it's not just the names of old flames that get lasered off with regularity at Synergi. It's tats of Winnie the Pooh (and Tigger, too!), tribal signs ... the list goes on.
And now Synergi is searching for the two worst tattoos in all of St. Louis. Winners (or should it be Losers with, yes, a capital "L"?) get their tattoos erased for free.
All you need to do is post a picture of your tattoo on Synergi's
"Worst Ink" Facebook page
by June 15 along with the story of how you ended up with that hideous "artwork" branded onto your body and why you need it removed. The person with the most "Likes" and the person deemed to have the best story by the staff at Synergi each get $1,500 worth of tattoo removal at the spa. (Half-hour sessions generally cost around $100, and it generally takes 12-15 session to remove a normal-sized tattoo.)
So far just a couple people have entered the contest. But be warned. All contestants will face the guy pictured above, who writes on the competition's Facebook page:
woke up one morning to find my arm hurting a lot. i looked at it and this is the mistake i had made the night before. i had a seizer (sic) from the thumbtack i used to do them with three weeks after. this is them, 2 years later.
No, you can't fix stupid. But with Synergi's "Q Switch" laser technology, you can erase it. Slowly.